The Korcari Wilds are a cold southern expanse of forest and swamp, the extent of which is not truly known. Chasind Wilders speak of a wasteland of snow and ice further to the south, filled only with desolate tundra and nomadic barbarians. Most northerners believe little of what the Chasind have to say.
The Wilds are also home to Flemeth, the legendary "Witch of the Wilds", and her daughters.
South of the Wilds itself lies the mysterious region known as the Sunless Lands.[1][2]
At -410 Ancient a group of Qunari landed in the southern Korcari Wilds, likely from The Frozen Seas in the east, and establishes a colony. This group is believed to have been eliminated during the First Blight, but beforehand, some of its females were turned into broodmothers by the darkspawn, and gave rise to the first appearance of Ogres in Thedas.[3]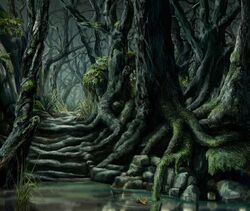 Local legends state that the perpetual mist surrounding the Wilds is not natural, but rather the result of a curse. Long ago, when werewolves terrorized the country, a great arl ventured into the Wilds killing every wolf he could find, as well as any Chasind. A Chasind mother was outraged upon finding her sons dead at the soldiers' blades - one of which she stabbed into her own heart. A great mist seeped forth from this mortal wound and spread throughout the Wilds. It was so dense that the arl and his soldiers were lost inside forever.
During the Grey Wardens' position of more power, they have maintained an outpost holding Ancient Treaties in the Wilds, which has gone into ruin in recent years of decline in the Wardens' influence.

The following characters, lore and events in this section are non-canon in Dragon Age and exist only within the Dragon Age tabletop RPG.
---
The Wilds are native to monsters such as the giant swamp crabs.[4]
Prince Maric
fled with the help of
Loghain
into the Korcari Wilds in order to escape from the forces of the usurper King
Meghren
during the
Fereldan Rebellion
in 8:96
Blessed
. Within the Wilds, they experienced many difficulties and they felt relieved when they finally left the forest. A
Dalish
clan also resided within the Korcari Wilds at that time.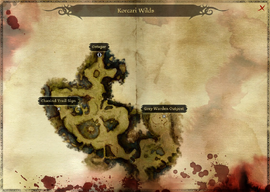 Plot Items:
Plants:
Chasind Cache:
Other: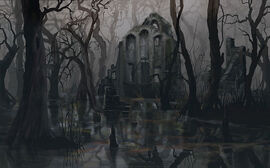 Near wolves vs. darkspawn area
Western camp
Quest-related
pc

One of the Flimsy Leghold Traps cannot be disarmed.
Community content is available under
CC-BY-SA
unless otherwise noted.