The Kirkwall Chantry is the seat of the Orlesian Chantry in Kirkwall.
Background
[
]
Kirkwall's chantry towers above the estates of Hightown, rivaled only by the Viscount's Keep. The chantry serves as a symbol as much as it does a place of worship: a symbol of the Chantry's importance in the tradition and the lives of Kirkwall's citizens, and its iron grip on the mages.
The chantry was constructed by the dwarves and originally served as a wealthy magister's estate during the Tevinter Imperium's rule over Kirkwall.[1] It was rebuilt and converted into the city's religious center after the slave uprising.
Involvement
[
]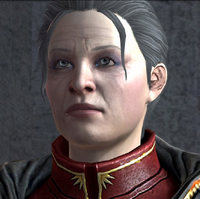 The chantry is home to Grand Cleric Elthina, the voice of the Divine in Kirkwall. It also houses the dispossessed Prince of Starkhaven, Sebastian Vael.
Characters
[
]
Sister Alema – an elderly sister with a potential drinking problem
Sister Colinda
Grand Cleric Elthina
Jatia's mother – a noblewoman who worries over her unmarried daughter with Sister Colinda
Sister Lorena – frequently gossips with Sister Samea about Sister Alema
Sister Petrice
Brother Plinth the Archivist
Sister Samea – frequently gossips with Sister Lorena about Sister Alema
Chanter Taletha – in charge of the Kirkwall Chantry Chanter's Board
Quests
[
]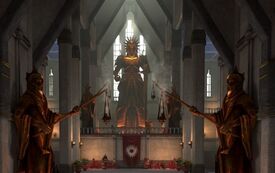 Act 1
[
]
Act 2
[
]
Act 3
[
]
Codex entries
[
]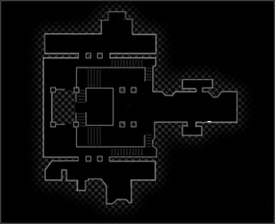 Act 1
[
]
Act 2
[
]
Act 3
[
]
Notes
[
]
In Act 2, if Aveline Vallen is in the party and spoken to while in the chantry, she will sometimes remark "I'm uncomfortable around chantry sisters. All because of that red-haired trickster in Lothering." This is a reference to Leliana from Dragon Age: Origins.
In Act 1, Bethany Hawke claims that she misses Sister Leliana's storytelling.
References
[
]