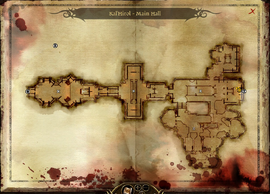 Note: Any stone golems, which have not been activated, will automatically crumble down when the golem master is killed and can be looted then.
Special objects
Edit
An Inert golem is located on the long stairwell between the entrance chamber and the antechamber. The Warden-Commander will automatically use the Golem control rod (should they have it) when they interact with it.
Note: The activated golem will proceed to the next room, defeat the darkspawn there, and return to its alcove. However, it can get stuck in the doorway or corridor if a party member or pet blocks it, preventing it from assisting the Wardens.
Notable items
Edit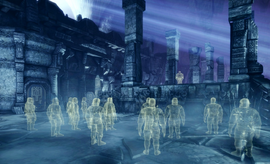 Cracked Breastplate
Cracked Breastplate
---
Generic


This armor has been split down the middle, but a skilled craftsman might be able to repair it.



, source:
Pile of bones

Flawless Ruby
Flawless Ruby
---
Gem


Rubies of such perfect cut and quality are exceedingly rare.



, source:
Golem master

Golem Control Rod
Golem Control Rod
---
Plot item
Dwarven runes are engraved all over this rod.

, source:
Golem master

Lyrium Ring
Lyrium Ring
---
Gift
An unusual ring of unrefined lyrium, toxic to most living creatures.

, source:
Chest

Lyrium Sand
Lyrium Sand
---
Plot item


Grains of lyrium, ground coarse.



, source:
Lyrium-infused skeleton

Shattered Maul
Shattered Maul
---
Generic


The head of this maul has come loose, although a craftsman could likely fix it.



, source:
Hurlock emissary

Staff of Vigor
Staff of Vigor
---
Staff
Volcanic Aurum (Tier 9)
Requires: 46 magic

Damage: 7.20 (Physical)
Armor penetration: 50.00
+5 constitution
+1 to health regeneration in combat
Rapid aim (-0.3s)
+10 spellpower
, source:
Hurlock emissary
Codex entries
Edit
Community content is available under
CC-BY-SA
unless otherwise noted.