These are Isabela's abilities in Dragon Age: Inquisition only.
Playstyle
Edit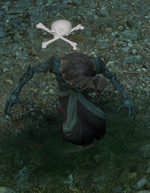 Isabela can generate stacks of Elusive in Multiplayer. These Elusive Coins are gained by using an attack ability such as Bolt which marks an enemy with Vendetta. And when using an ability such as Flashing Steel which removes Vendetta, will grant Elusive to Isabela. Elusive has a variety of uses. For each stack of Elusive, one attack against Isabela is instantly negated with no damage taken. Elusive can also be used to power Isabela's most powerful attacks such as Swashbuckle. Various passive abilities also allow stacks of Elusive to grant additional abilities such as increased movement speed.
Abilities
Edit
Note: Not all of these abilities have the same preceding requirements as in single player.
Step SmartlyEdit
Flashing Steel

Activated
Activation: 35 stamina
Cooldown: 8.5 seconds
You lash out around you with both daggers, hitting all enemies in melee range.
Weak Spot
Upgrade
Requires: Flashing Steel
Flashing Steel now costs less stamina and deals more damage to each Vendetta target struck.

Cost Reduction: 20%
Damage Bonus: 200%

Gangway

Activated
Cooldown: 10.2 seconds
If your target is in melee range, you fall back and fire a crossbow shot. If they are at a distance, you hurl a grappling hook to leap to them, then kick them on arrival.
Avast
Upgrade
Requires: Gangway
If your target of Gangway has a Vendetta, your cooldown is reduced.

Cooldown Reduction: 6 seconds


Dead in the Water

Passive
Duration: 6 seconds
Enemies that attempt to hit you while you have at least one stack of Elusive are weakened.

Constitution + 3

Flank Attack

Activated
Activation: 35 stamina
Cooldown: 8s
Requires: Daggers
You leap through shadows to attack your foe with deadly strikes that hit them from behind.
Hard Astern
Upgrade
Requires: Flank Attack
Flank Attack now consumes any active Vendetta mark on the target and grants you two stacks of Elusive.

Buccaneer

Passive
On land or at sea, Isabela is easy to love but hard to handle.

Constitution + 3
Cunning + 3
Dexterity + 3

Look But Don't Touch

Passive
While you have at least one stack of Elusive, you are unaffected by damage over time.

Constitution + 3

Avenger

Passive
Duration: 10 seconds
When a party member dies, you gain your maximum stacks in Elusive and a bonus to damage.

Cunning + 3
Damage Bonus: 100%
Bear Mauls the Wolves

Passive
Using techniques perfected by Orlesian chevaliers, you can't be flanked by enemies, and you're less likely to be staggered when hit from the front.

Enemies no longer receive a bonus for flanking damage
Constitution + 3
Parry

Activated
Activation: 10 stamina
Requires: Daggers
You quickly block a strike made by your foe, then counter as their own defenses fall.
Effortless Riposte
Upgrade
Requires: Daggers
If you succeed in countering a blow, your Parry costs no stamina at all.

Negates stamina cost if successful

Hoist the Mainsail

Passive
Your movement speed increases with each stack of Elusive.

Movement speed +10% for each stack of Elusive
Dexterity + 3

Ambush

Activated
Activation: 35 stamina
Duration: 8 seconds
Cooldown: 8.5 seconds
You catch an enemy off-guard, taunting them to attack you and dealing massive damage if they are not already doing so.
Wind in Your Sails
Upgrade
Requires: Ambush
Dealing damage to an enemy you have taunted with Ambush restores some stamina.

Stamina Restored: 10

Unyielding

Passive
Cooldown: 60s
Requires: Resilience
An attack the would bring you down instead leave you with a small amount of health, and you are immune to all damage for a short time.

Invulnerability for 5s
Constitution +3
Swashbuckle

Activated
Activation: 1 Elusive minimum
You consume all stacks of Elusive to unleash a flurry of dagger attacks. Each stack of elusive adds an additional strike.
Daring Speed
Upgrade
Duration: 10 seconds
Requires: Swashbuckle
Swashbuckle increases your attack speed for each stack of Elusive used

Attack Speed: 5% per elusive stack

Naturally Elusive

Passive
You gain a bonus to your maximum stacks of Elusive.

Now able to use 4 stacks of Elusive
Cunning + 3

No QuarterEdit
Bolt

Activated
Activation: 15 stamina
You fire a quick shot from your crossbow, place a Vendetta mark on any enemy you strike.
Hot Streak
Upgrade
Requires: Bolt
A critical hit with Bolt gives you an automatic critical hit on the next ability you use.

Keelhaul

Activated
Activation: 25 stamina
Duration: 10 seconds
Cooldown: 12.75 seconds
You shoot a tethered bolt that chains two enemies together and places a vendetta mark on both of them. Both enemies are slowed and will be pulled together if they get too far away from each other.
Shark Bait
Upgrade
Requires: Keelhaul
Keelhaul now chains, and adds a Vendetta mark to an additinal Enemy

Unforgiving Chain

Passive
Your daggers blur, a dance of deadly pain. Each strike adds to your critical hit chance. After a critical attack, your chain resets as you begin another dance.

Critical hit chance: 1%
Dexterity +3
Evade

Activated
Activation: 20 stamina
Cooldown: 2s
You leap away from incoming attacks, putting yourself where you need to be to win this fight.
Hidden Step
Upgrade
Requires: Evade
Enemies will swear you're still there, attacking empty air and hurting nobody but themselves as you leap away.

Duration: 3 seconds
Damage: 300% weapon damage

Savvy

Passive
Each crossbow ability increases the damage of your next dagger ability, and each dagger ability increases the damage of your next crossbow ability.

Damage bonus 20%
Maximum stacks: 5

Looked Like It Hurt

Passive
The worst mistake your enemies can make is to let you see them flinch. Whenever you score a Critical Hit, you regenerate stamina.

Stamina restored on Critical Hit: +10
Cunning +3
Salty Sea Dog

Passive
Range: 5 meters
When there are enemies nearby, your defenses increase. When there are no enemies nearby, your stamina generation increases.

Damage reduction: 5% per enemy
Stamina generation rate bonus: 25%
Constitution +3

Fallback Plan

Activated
Activation: 35 stamina
Duration: 15 seconds
Cooldown: 32s
Requires: Opportunity Knocks
You place a thieves' lantern to mark a fallback location before heading into battle. When the fight gets ugly, you leap back to safety, as healthy as you were when you placed the marker.
Bait and Switch
Upgrade
Requires: Fallback Plan
You can fight for a longer period of time before leaping back, and you pull your closest enemy with you.

Duration Bonus: 5 seconds

Crow's Nest Lookout

Passive
Your critical hit damage increases, especially against distant targets.

Critical strike damage: 50%
Distant critical strike damage: 100%
Dexterity +3

Blinding Shot

Activated
Activation: 25 stamina
Cooldown: 10.2 seconds
You shoot an enemy with an explosive blinding powder, causing their next attack to deal no damage.
Dead Men Tell No Tales

Passive
Range: 8 meters
If an Enemy dies while marked with Vendetta, it spreads to nearby enemies.

Cunning +3
Broadsides

Activated
Activation: 35 stamina
Cooldown: 15.3 seconds
You hit all enemies around your target with crossbow bolts, placing a Vendetta mark on every distant secondary target.
Cross the T
Upgrade
Requires: Broadsides
Broadsides does additional damage and weakens all enemies it hits.

Damage bonus: 150%
Weakened duration: 6 seconds

Black Mark

Passive
Range: 8 meters
If an Enemy dies while marked with Vendetta, it spreads to nearby enemies.

Damage bonus: 10%
Cunning +3
The Kirkwall Kiss

Passive
Range: 8 meters
If an Enemy dies while marked with Vendetta, it spreads to nearby enemies.

Dexterity +3
Community content is available under
CC-BY-SA
unless otherwise noted.