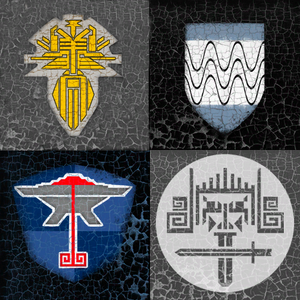 House is the formal term for dwarven families whose members are tied with bonds of kinship. The laws regarding houses are dictated by the caste system as well as their stature and rank within dwarven society.
Background
Edit
Honor, or the illusion of it, is fundamental to dwarves. It shapes their lives and behavior and all elements of dwarven society. Therefore, every house and family polices itself and the honor and behavior of its members. This is a matter of especial importance to noble houses, as nobles are considered to set the mode for the behavior of all other castes. A house's honor is directly tied to the honor and behavior of its members and their deeds. A loss of honor for any member connotes a loss of honor for all in the house.
Known Houses
Edit
Below are lists of the known dwarven houses, which are categorized depending on their caste. Houses of the same caste are then listed in an alphabetical order, while those whose status is unknown have their name italicized.
Noble Houses
Edit
Houses which are part of the Noble caste were initially founded by a Paragon but some were founded by high caste dwarves not originally of noble stock, typically Warrior or Smith caste. The respect accorded to a noble house is proportional to its age and accomplishments. Noble houses or important nobles alone often act as patrons to lesser houses or families as well as function as patrons to great warriors in Provings and artists of merit. The noble house gains honor as the subject of their patronage excels and achieves greater status, so the relationship is mutually beneficial.
Warrior Houses
Edit
Houses which belong to the Warrior caste often pay the toll for Orzammar's safety and security. In spite of this, the Warrior caste is one of the most populous in Orzammar, perhaps due to the martial nature of dwarven society.
Smith Houses
Edit
Houses belonging to the Smith caste have produced many Paragons, owing to the importance of smithing inventions to dwarven society. As a result, there have been many noble houses comprised of smiths.
Artisan Houses
Edit
Little is known of Artisan caste houses. The Artisan caste works in concert with the Smith caste to produce goods and thus their houses are presumably held in a similar esteem.
Mining Houses
Edit
Houses of the Mining caste can be considered to have a great deal of influence, particularly in Orzammar, which was the ancestral home of the Smith and Mining castes.[33]
Merchant Houses
Edit
Houses of the Merchant caste are involved in trading and commerce, which is an important task as it keeps Orzammar supplied while dwarven products make their way to the surface.
Houses of unknown caste
Edit
References
Edit
Community content is available under
CC-BY-SA
unless otherwise noted.