m

m

Line 25:
Line 25:
 

[[File:Hinterlands-Map.png|thumb|300px|Map of the Hinterlands in ''Inquisition'']]

 

[[File:Hinterlands-Map.png|thumb|300px|Map of the Hinterlands in ''Inquisition'']]

 

=== Regions ===

 

=== Regions ===

−

:'''''Note''''': ''The 29 regions below make up the Regions in the Hinterlands [[Collections|collection]]. Discovering all of them grants 200 Influence.''

+

NoteThe 29 regions below make up the Regions in the Hinterlands [[Collections|collection]]. Discovering all of them grants 200 Influence.

 
+

<!-- ****** Please avoid changing this section as this represents the Regions collection ******-->

 

* Apostate Stronghold

 

* Apostate Stronghold

 

* Ash Warrior's Refuge

 

* Ash Warrior's Refuge

Line 45:
Line 46:
 

* [[Moira Theirin|Rebel Queen]]'s Ravine

 

* [[Moira Theirin|Rebel Queen]]'s Ravine

 

* Redcliffe Farms

 

* Redcliffe Farms

−

*{{:Redcliffe Village|style=iconmini}}<br>

+

*{{:Redcliffe Village|style=iconmini}}<br>

 

* Redcliffe Road

 

* Redcliffe Road

 

* Smuggler's Cave

 

* Smuggler's Cave

Line 55:
Line 56:
 

* Witchwood

 

* Witchwood

 

* Wolf Hollow

 

* Wolf Hollow

 
+

<!-- ****** Please avoid changing this section as this represents the Regions collection ******-->

 
 
 

=== Additional places ===

 

=== Additional places ===

−

*{{:Redcliffe Castle|style=iconmini}}

+

*{{:Redcliffe Castle|style=iconmini}}

 

* Southmere<ref>''[[Dragon Age (tabletop RPG)]]'', Amber Rage</ref>

 

* Southmere<ref>''[[Dragon Age (tabletop RPG)]]'', Amber Rage</ref>

 

* Fort Connor

 

* Fort Connor

−

*{{:Valammar|style=iconmini}}

+

*{{:Valammar|style=iconmini}}

 
 
 

=== Inquisition camps ===

 

=== Inquisition camps ===

Line 125:
Line 127:
 

{{:Trouble with Wolves|style=iconmini}}<br>

 

{{:Trouble with Wolves|style=iconmini}}<br>

 

{{:The Vault of Valammar|style=iconmini}}<br>

 

{{:The Vault of Valammar|style=iconmini}}<br>

−

{{:Where the Druffalo Roam|style=iconmini}}<br>

+

{{:Where the Druffalo Roam|style=iconmini}}

 
 
 

=== Rifts ===

 

=== Rifts ===

Line 132:
Line 134:
 

{{:Rifts at the Foothold|style=iconmini}}<br>

 

{{:Rifts at the Foothold|style=iconmini}}<br>

 

{{:Rifts on the Outskirts|style=iconmini}}<br>

 

{{:Rifts on the Outskirts|style=iconmini}}<br>

−

{{:Rifts in the Woods|style=iconmini}}<br>

+

{{:Rifts in the Woods|style=iconmini}}

 
 
 

=== Requisitions ===

 

=== Requisitions ===

Line 140:
Line 142:
 

{{:Hinterlands Iron Survey|style=iconmini}}<br>

 

{{:Hinterlands Iron Survey|style=iconmini}}<br>

 

{{:Hinterlands Puzzle Box Requisition|style=iconmini}}<br>

 

{{:Hinterlands Puzzle Box Requisition|style=iconmini}}<br>

−

{{:Hinterlands Tapestry Requisition|style=iconmini}}<br>

+

{{:Hinterlands Tapestry Requisition|style=iconmini}}

 
 
 

==Collections==

 

==Collections==

 

===Astrariums===

 

===Astrariums===

 

{{:Astrariums in the Hinterlands|style=iconmini}}

 

{{:Astrariums in the Hinterlands|style=iconmini}}

⚫
 
 
 
 
⚫
 

[[File:Bottles On The Wall icon.png|16px]] Butterbile 7:84 - On a table in a round house at the spot where the quest [[Blood Brothers]] takes place<br>

 

[[File:Bottles On The Wall icon.png|16px]] Butterbile 7:84 - On a table in a round house at the spot where the quest [[Blood Brothers]] takes place<br>

 

[[File:Bottles On The Wall icon.png|16px]] Carnal, 8:69 Blessed - In Master Dennet's house<br>

 

[[File:Bottles On The Wall icon.png|16px]] Carnal, 8:69 Blessed - In Master Dennet's house<br>

−

[[File:Bottles On The Wall icon.png|16px]] Vint-9 Rowan's Rose - On the second floor of the tavern at Winterwatch Tower<br>

+

[[File:Bottles On The Wall icon.png|16px]] Vint-9 Rowan's Rose - On the second floor of the tavern at Winterwatch Tower

 
+
 

===High Dragons===

 

===High Dragons===

 

[[File:High Dragon icon.png|20px]] [[Fereldan Frostback]]

 

[[File:High Dragon icon.png|20px]] [[Fereldan Frostback]]

 
+
 

===Landmarks===

 

===Landmarks===

 

{{:Landmarks in the Hinterlands|style=iconmini}}

 

{{:Landmarks in the Hinterlands|style=iconmini}}

 
+
 

===Mosaics===

 

===Mosaics===

 

{{:The Fall|style=iconmini}}

 

{{:The Fall|style=iconmini}}

 
+
 

===Shards===

 

===Shards===

 

{{:Shards in the Hinterlands|style=iconmini}}

 

{{:Shards in the Hinterlands|style=iconmini}}

 
+
 

===[[Banners|Skyhold Customizations]]===

 

===[[Banners|Skyhold Customizations]]===

 

*Ferelden Banner - in the Grand Forest Villa

 

*Ferelden Banner - in the Grand Forest Villa

 

*Free Marches Banner - upstairs in Master Dennet's house in Redcliffe Farms

 

*Free Marches Banner - upstairs in Master Dennet's house in Redcliffe Farms

 
+
 

===[[Patron of the Arts|Songs]]===

 

===[[Patron of the Arts|Songs]]===

 

[[File:Song icon.png|16px]] [[Codex entry: Saga of Tyrdda Bright-Axe, Avvar-Mother|Saga of Tyrdda Bright-Axe, Avvar-Mother]]

 

[[File:Song icon.png|16px]] [[Codex entry: Saga of Tyrdda Bright-Axe, Avvar-Mother|Saga of Tyrdda Bright-Axe, Avvar-Mother]]

Line 218:
Line 226:
 

*At the top of the north tower in the keep at Winterwatch Tower

 

*At the top of the north tower in the keep at Winterwatch Tower

 

*In a shack just SSW of Redcliffe Farms Camp

 

*In a shack just SSW of Redcliffe Farms Camp

 
+
−

===[[Logging stand|Logging stands]]===

+

===[[Logging stand]]===

 

*In the canyon west of Valammar entrance

 

*In the canyon west of Valammar entrance

 

*On the southern slope of the hill next to the Senna's Shrine

 

*On the southern slope of the hill next to the Senna's Shrine

 
+
 

=== Loot ===

 

=== Loot ===

 

{{:The Sweetish Fingers|style=iconmini}} - dropped by the elite Templar Knight during [[Templars to the West]]<br>

 

{{:The Sweetish Fingers|style=iconmini}} - dropped by the elite Templar Knight during [[Templars to the West]]<br>

 

{{:Masterwork Vanguard Armor|style=iconmini}} - dropped by the elite [[The Mercenary Fortress|Mercenary Leader in Grand Forest Villa]]<br>

 

{{:Masterwork Vanguard Armor|style=iconmini}} - dropped by the elite [[The Mercenary Fortress|Mercenary Leader in Grand Forest Villa]]<br>

 

{{:Wrath of Lovias|style=iconmini}} - dropped by the elite Rebel Mage during [[Apostates in Witchwood]]

 

{{:Wrath of Lovias|style=iconmini}} - dropped by the elite Rebel Mage during [[Apostates in Witchwood]]

 
+
 

=== [[Red Jenny Cache|Red Jenny caches]] ===

 

=== [[Red Jenny Cache|Red Jenny caches]] ===

 

* Near the Tempter Burns [[Landmarks in the Hinterlands|landmark]] - behind the large rock on the left

 

* Near the Tempter Burns [[Landmarks in the Hinterlands|landmark]] - behind the large rock on the left

 

* Inside [[Redcliffe Village]] - behind the building housing the [[Merchant (Redcliffe Village) (Weapons and Upgrades)|weapons and upgrades merchant]]

 

* Inside [[Redcliffe Village]] - behind the building housing the [[Merchant (Redcliffe Village) (Weapons and Upgrades)|weapons and upgrades merchant]]

 

* Inside Old Simeon's Cave

 

* Inside Old Simeon's Cave

 
+
−

=== Veilfire glyphs ===

+

=== Veilfire glyphs ===

 

{{:Fire Rune Schematic|style=iconmini}} - in a cave directly east of the Crossroads (same cave as [[Measuring the Veil]])<br>

 

{{:Fire Rune Schematic|style=iconmini}} - in a cave directly east of the Crossroads (same cave as [[Measuring the Veil]])<br>

 

{{:Frost Rune Schematic|style=iconmini}} - in a cave northwest of Redcliffe Farms Camp and the northernmost astrarium

 

{{:Frost Rune Schematic|style=iconmini}} - in a cave northwest of Redcliffe Farms Camp and the northernmost astrarium
---
Revision as of 01:05, 11 February 2016
The Hinterlands are a region in Ferelden located between the fortress of Ostagar and Redcliffe.
Background
The Hinterlands comprises a good deal of fertile agricultural land and as such is populated with a great many farmsteads throughout the area. Its main settlement is Redcliffe Village, situated in the western hills of Ferelden and protected by Redcliffe Castle. Since the end of the Fifth Blight, the Hinterlands have seen an influx of settlers from Redcliffe Village looking to escape unpleasant memories of the darkspawn and the other dark events which befell Redcliffe during the Blight.
Involvement
Since the outbreak of the Mage-Templar War, the Hinterlands has suffered as the site of several battles between apostate mages and rebel templars. The local population has been the victim of attacks by both sides.
The Inquisitor
can help restore order to the region by helping the inhabitants in a variety of ways, and ultimately by ending the Mage-Templar War.
Places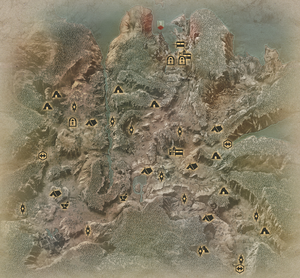 Regions
Note: The 29 regions below make up the Regions in the Hinterlands collection. Discovering all of them grants 200 Influence.
Apostate Stronghold
Ash Warrior's Refuge
Avvar Blade Valley
Blood Cliffs
Calenhad's Foothold
Crossroads
Dead Ram Grove
Dwarfson's Pass
East Road
Forannan Ravine
Grand Forest Villa
Gully of the Burnt Men
Hafter's Woods
Lady Shayna's Valley
Lake Luthias
Old Simeon's Cave
Outskirts
Rebel Queen's Ravine
Redcliffe Farms
Redcliffe Road
Smuggler's Cave
Templar Encampment
Valammar Gate
West Road
Western Outskirts
Winterwatch Tower
Witchwood
Wolf Hollow
Additional places
Inquisition camps
Outskirts Camp
Dusklight Camp
Dwarfson's Pass Camp
Forest Camp
Redcliffe Farms Camp
Upper Lake Camp
Characters
Quests

A Common Treatment


A Healing Hand


A Rare Treatment


A Spirit in the Lake


Agrarian Apostate


An Advanced Treatment


Apostates in Witchwood


The Ballad of Lord Woolsley


Bergrit's Claws


Blood Brothers


Business Arrangements


Conscientious Objector


Deep Trouble


East Road Bandits


Failure to Deliver


Farmland Security


Flowers for Senna


Hinterland Who's Who


Holding the Hinterlands


Horses for the Inquisition


Hunger Pangs


In the Elements


In the Saddle


Letter from a Lover


Love Waits


Map of Farmland Cave


Map to a Waterfall


Master of Horses


The Mercenary Fortress


My Lover's Phylactery


Open a Vein


Playing with Fire


Praise the Herald of Andraste


Return Policy


Safeguards Against Looters


Shallow Breaths


Sketch of Calenhad's Foothold


Stone Dreams


Strange Bedfellows


Templars to the West


Trouble with Wolves


The Vault of Valammar


Where the Druffalo Roam
Rifts

Rifts at Dwarfson's Pass


Rifts on the Farm


Rifts at the Foothold


Rifts on the Outskirts


Rifts in the Woods
Requisitions

Hinterlands Cage Requisition


Hinterlands Geological Survey


Hinterlands Field Tent Requisition


Hinterlands Iron Survey


Hinterlands Puzzle Box Requisition


Hinterlands Tapestry Requisition
Collections
Astrariums
Butterbile 7:84 - On a table in a round house at the spot where the quest Blood Brothers takes place

Carnal, 8:69 Blessed - In Master Dennet's house

Vint-9 Rowan's Rose - On the second floor of the tavern at Winterwatch Tower
High Dragons

Fereldan Frostback
Landmarks
Mosaics
Shards
Ferelden Banner - in the Grand Forest Villa
Free Marches Banner - upstairs in Master Dennet's house in Redcliffe Farms

Saga of Tyrdda Bright-Axe, Avvar-Mother
Creatures
Enemies
Apostate mages

Rebel Spellbinder
Sellsword

Lyrium smugglers
Outlaws
Rebel Templars

Templar Knight
Templar Archer
Templar Defender (Tower Shield)
Crafting Materials
Herbs

Blood Lotus


Crystal Grace (Rare)


Deep Mushroom (Rare)


Elfroot


Embrium


Royal Elfroot (Rare)

Spindleweed

Leather

Bear Hide


Canine Leather


Fennec Fur


Nugskin


Ram Leather

Metals

Drakestone


Iron


Obsidian (Rare)


Onyx

Notable items
In the cave where Measuring the Veil is completed
At the top of the north tower in the keep at Winterwatch Tower
In a shack just SSW of Redcliffe Farms Camp
In the canyon west of Valammar entrance
On the southern slope of the hill next to the Senna's Shrine
Loot
The Sweetish Fingers - dropped by the elite Templar Knight during Templars to the West

Masterwork Vanguard Armor - dropped by the elite Mercenary Leader in Grand Forest Villa


Wrath of Lovias - dropped by the elite Rebel Mage during Apostates in Witchwood

Fire Rune Schematic - in a cave directly east of the Crossroads (same cave as Measuring the Veil)


Frost Rune Schematic - in a cave northwest of Redcliffe Farms Camp and the northernmost astrarium
Codex entries

Codex entry: A Letter to Revered Mother Giselle


Codex entry: A Page from a Journal, Edges Scorched


Codex entry: An Unsigned Letter in the Hinterlands


Codex entry: Astrariums


Codex entry: Ferelden After the Blight


Codex entry: Fort Connor


Codex entry: Grand Forest Villa


Codex entry: Healer's Notes at Redcliffe Crossroads


Codex entry: Hero of Ferelden


Codex entry: Hunter's View of the Mage-Templar War


Codex entry: Letter Found in a Redcliffe Home


Codex entry: Lornan's Exile


Codex entry: Map to a Waterfall


Codex entry: Saga of Tyrdda Bright-Axe, Avvar-Mother


Codex entry: Sketch of Calenhad's Foothold


Codex entry: Stronghold of the Apostate Mages


Codex entry: Templar Encampment


Codex entry: The Hinterlands


Codex entry: The Lost Art of Veilfire (if veilfire used)


Codex entry: Veilfire (if veilfire used)


Codex entry: The Tevinter Imperium

Gallery
References