The Hidden Hollow is a cavern sealed deep within the earth.
Involvement
Edit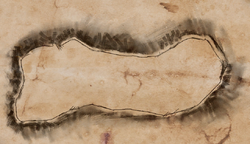 Notable items
Edit
The following can be obtained within a sealed chest guarded by two Despair demons and a Rage demon.
The Eye That Weeps

The Eye That Weeps

---

Unique Amulet




This amulet is heavy for its size, and the metal is clammy and sticks jealously to the flesh. The gem in the center contains a liquid that glowers a sluggish red in bright light. Condensation slowly forms on the gem's outer surface, no matter how many times it's wiped clean.



+10% Attack
The following stacking bonus is granted on ability usage:
• 2 Pieces: +10% Attack Speed
• 3 Pieces: +10% Movement Speed
• 4 Pieces: 1% Heal on hit
Set: The Taken Shape
Codex entries
Edit
Community content is available under
CC-BY-SA
unless otherwise noted.