Herald's Rest is a tavern located in Skyhold. It becomes available once the Inquisition assumes control of the fortress.
A place for all in service here,
To rest, recoup, and persevere.
Though weighs the heart, remember best,
Your saving grace, the Herald's Rest.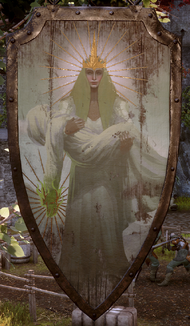 The Herald's Rest tavern is a place for soldiers and other members of the Inquisition to gather for relaxation. It is also the location of certain companions, offering a place in which the Inquisitor can engage with them in private. There are three levels to the tavern, with a companion found on each one.
The tavern employs a bard, Maryden Halewell, and through the course of the Inquisition's journey, her songs change in accordance with various events and decisions made by the Inquisitor.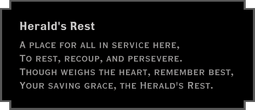 Community content is available under
CC-BY-SA
unless otherwise noted.