Haven Chantry is the chantry located in the Village of Haven. It is found on a high hill, above the level of the rest of the village.
Involvement
Edit
Unlike mainstream Chantries, the chantry of Haven is run by the
Disciples of Andraste
. It is led by
Father Eirik
, who is giving a sermon when
the Warden
enters. After a brief discussion with Eirik, he attacks the Warden and a fight ensues. Afterward the Warden can find
Brother Genitivi
behind a secret door. The brick wall can slide away and reveal the hidden area.
Following the disaster at the Temple of Sacred Ashes, forces loyal to
Divine
Justinia V
used the Haven Chantry as their base of operations. A few days later, the Chantry became the headquarters of the
restored Inquisition
, founded on Justinia's orders. The Chantry served in this capacity until the Inqusition was successful in sealing
The Breach
. Shortly thereafter, forces loyal to
Corypheus
assaulted Haven. When the Elder One revealed his
red lyrium dragon
, the Inquisition and the people of Haven retreated to the Chantry for shelter, before fleeing using a hidden escape route. The Haven Chantry was likely destroyed along with the rest of the village when the
Herald of Andraste
triggered a massive avalanche.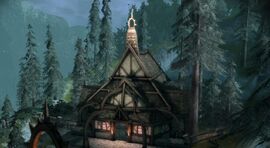 Notable items
Edit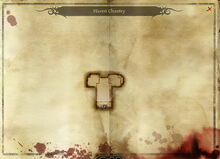 Cultist Medallion
Cultist Medallion
---
Plot item
A very large bronze disk, bearing the symbol of Andraste.


Ring of Faith
Ring of Faith
---
Ring


The designs on this bit of ivory are almost primitive, depicting rays of light. It has a warm, luminous quality, as if always sitting in sunshine on a summer afternoon.



+10% fire damage
, source:
Inscribed Chest
Notable gifts for companions:
Small Silver Bar
Small Silver Bar
---
Gift


A bar of pure silver.



, source:
Inscribed Chest
Containers
Edit
Community content is available under
CC-BY-SA
unless otherwise noted.