Grand Enchanter is the title given to a highly esteemed First Enchanter elected from the Circles of Magi by the College of Enchanters. The Grand Enchanter is the highest-ranking mage in the countries following the Andrastian Chantry. In the Imperial Chantry, the Imperial Divine assumes the role of Grand Enchanter.[1]
Background
[
]
The obligations and responsibilities of the position are not fully defined but it can be inferred that the position is one of overseeing the First Enchanters and interacting more directly with the Chantry in regard to the administration and conduct of the Circles of Magi. They also serve as an arcane advisor to the Divine.
The Grand Enchanter appears to reside in Cumberland, where the conclaves of First Enchanters are typically held.[2]
Grand Enchanters wear white robes as a symbol of their position, as opposed to the black robes of First Enchanters.[3]
Known Grand Enchanters
[
]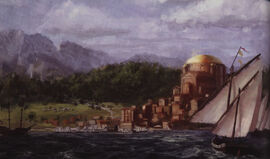 Andrastian
[
]
Lothaire Hardouin – the First Grand Enchanter of the Circle of Magi[5]
If Vivienne did not become Divine Victoria:

Imperial
[
]
Known literary works by Grand enchanters
[
]
| | |
| --- | --- |
| | This section is incomplete and requires expansion. |
Trivia
[
]
The entryway of the College of the Magi in Cumberland bears sandstone busts of every Grand Enchanter who has held the office in the last six hundred years.[6]
Codex entries
[
]
References
[
]