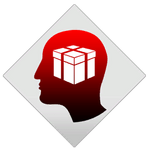 Upon acquisition of a gift in Dragon Age II, an associated quest is added to the journal. To complete it, you must return to the companions's home to speak with them. Presenting a gift increases Hawke's friendship or rivalry. A companion's reaction to a gift depends on their current stance towards Hawke, e.g., if the companion is already on the rivalry path, then giving them a gift will push them further down that path—their dialogue will also be different.
The achievement "Gift Giver" can be earned by giving one of your companions a gift.
Note: Some companion items are armor upgrades rather than actual gifts. These are listed in companion armor.