Gentle Path is a random encounter. A courageous roadside merchant who frequently braves the dangers of the road is found there. He has little to say, but much to sell.
Characters
Old Tegrin, a travelling dwarven merchant together with his ox and cart.
Special objects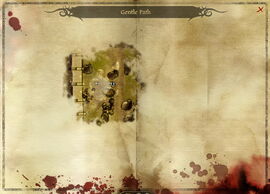 See Old Tegrin's Wares.
Notable items
Elfroot
Elfroot
---
Ingredient
The common name for canavaris, this herb actually has little to do with elves other than being commonly collected and traded to outsiders by the Dalish. It is the primary ingredient in many healing salves.

Use: Chewing elfroot restores a small amount of health, and those with skill can use elfroot to make more potent elixirs.
Notes
Gentle Path is the most common World map encounter in the game, it will appear multiple times per playthrough and has no limitations on how often it can be encountered.