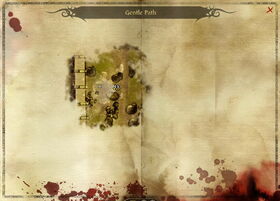 Background
You've encountered a courageous roadside merchant who frequently braves the dangers of the road. He has little to say, but much to sell.
Characters
Old Tegrin, a travelling dwarven merchant together with his ox and cart.
Items
Elfroot may refer to:
This disambiguation page lists articles associated with the same title.
If an internal link led you here, you may wish to change the link to point directly to the intended article.
Special objects
See Old Tegrin's Wares.
Notes
Gentle Path is the most common World Map Encounter in the game, it will appear multiple times per playthrough and has no limitations on how often it can be encountered.
Exits

World map