Genetivi's Home is a small house across from the Gnawed Noble Tavern in the Denerim Market District. It is the home of the scholar Brother Genitivi. When it is first entered, the house only has one occupant: Weylon, Brother Genitivi's assistant.
If you attempt to enter Brother Genitivi's study, Weylon will try to stop you. The only way to get past is by killing him. Upon entering the study you will find a corpse described as "The Real Weylon".
Depending on the Warden's actions during the questline, Brother Genitivi himself may return to the house once the quest has been completed. If the Warden visits him after he returns home, he will give the party
a gift
.
Items and Codex Entries
Steel Symbol of Andraste
Steel Symbol of Andraste
---
Gift


This holy symbol is crafted from polished steel and has a severe look to it.



, source: Chest
Codex Entry 116: Dragon Cults
, source: Book
Quests

The Urn of Sacred Ashes
Exits
Denerim Market District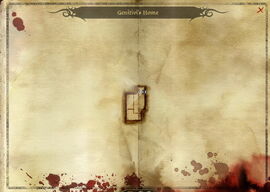 Community content is available under
CC-BY-SA
unless otherwise noted.