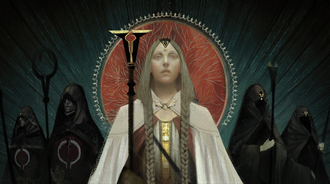 Fraternities are groups of enchanters who hold the same viewpoints, and band together to make their voices heard. They function as political parties among Circle mages and determine the policy of a given Circle. Any full enchanter can join one. A fraternity counts enchanters from different Circles among their number, and the various fraternities vie for power in the College of Magi. The College, they say, allows mages of the south to gather in peace and seek new solutions to age-old problems.
Known fraternities
Edit
Aequitarians are the dominant faction in the College of Magi in general, and Ferelden's Circle in particular. They promote a moderate and popular viewpoint that mages must use their abilities in a responsible and ethical manner, regardless of Chantry law. Aequitarians believe that all mages should help people and follow a set of rules and ideals. In practice, this usually means operating within the more reasonable tenets of Chantry law. Known Aequitarians include Edmonde, Irving, Rhys, Sweeney, Torrin and Wynne. By 9:40 Dragon they are represented in the College of Magi by Rhys.
Isolationists are a small group of mages who wish to separate themselves from the templars, the Chantry and even civilization altogether, both in order to practice magic without scrutiny and to ensure their powers do not negatively affect "ordinary" folk. Niall identifies with the beliefs of the Isolationists, though does not consider himself one of them.
Libertarians desire the Circle to become an autonomous, self-regulating order without Chantry involvement at any level. While many Libertarians advocate the use of peaceful means to ensure their independence, such as a bill of secession they proposed to the College of Magi in 9:31 Dragon, at least one subgroup, the Resolutionists, are willing to pursue violent means to their ends. Libertarians count Uldred, Adrian and Jeannot among their number, led by Fiona. By 9:40 Dragon they are represented in the College of Magi by Adrian.
Loyalists follow the Chantry's word as it is written. They are often called "Chantry apologists" for accepting and enforcing the Chantry's and the Templars' ever-present supervision.
Lucrosians prioritize the accumulation of wealth, with the gaining of political influence a close second. They are few in number.
The College of Magi in Cumberland is a palace, gifted to the Chantry by a Nevarran Duchess. This was rumoured to be because her daughter was a mage, and the Duchess wanted her to have the opulence to which she was accustomed. The College is sheer display of wealth, with sandstone busts of every Grand Enchanter who had held the office in the last six hundred years.[1]
Codex entries
Edit
Codex entry: Circles Within Circles
Codex entry: The Fraternity of Enchanters

Codex entry: The Resolutionists
References
Edit
↑ Dragon Age: Asunder, pg 181
↑ Vivienne's epilogue slides in Trespasser
Community content is available under
CC-BY-SA
unless otherwise noted.