Background
The party encounters rebel dwarves, who are unhappy with the outcome of A Paragon of Her Kind quest. This random encounter happens regardless of who you sided with, be it Lord Harrowmont or Prince Bhelen.
Enemies
Items
Deathroot may refer to:
This disambiguation page lists articles associated with the same title.
If an internal link led you here, you may wish to change the link to point directly to the intended article.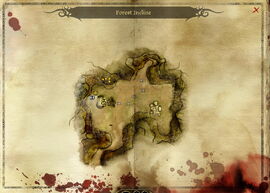 Notes
Occurred on the way from Soldier's Peak to Denerim. Also occurred on the way to the Brecilian Forest from Camp after revisiting Flemeth's Hut and Denerim. Occurred after Rescue the Queen. Can also occur on way from Brecilian Ruins to Brecilian Outskirts. Also occurred from Frostback Mountains to Brecilian Outskirts.