Roblox: DeepWoken - The Loop
Play Sound
See also: Medicine, Education, Ines Arancia, Nursery Seeds, and Creature research
The world of Thedas is home to many species of plants and animals.
Fauna
[
]
Adder – also known as a death adder, its venom is used as a component in Adder's Kiss due to its paralyzing effect
Badger[3]
Basilisk[4]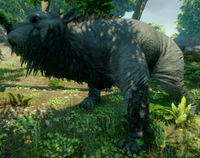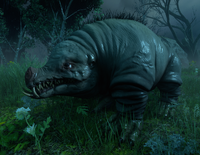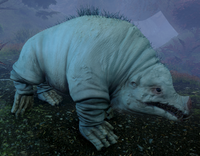 Bronto – a large herd animal that dwells underground; dwarves use them as a beast of burden and a food source; brontos are the rough equivalent to surface oxen and cows
Bunting - A seed-eating songbird, related to fincehs. It is brown streaked with a boldly marked head.[13]
Carp[18]
Cobra[28]
Cretahl – an ancient horned beast of war that dwells in the Deep Roads
Crow[34]
Dathrasi – a creature comparable to a pig[35]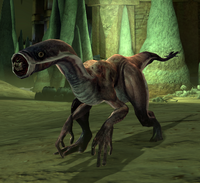 Deepstalker – a lizard-like creature found in the Deep Roads and underground caverns, it's a vicious predator that hunts in packs, usually preying on nugs
Dog[41]
Dracolisk – a powerful animal originating from the Donarks that can be used as a mount; dracolisks were selectively and magically bred by Tevinters to be stronger and larger than their ancestors; they are rumored to share blood with dragons or wyverns
Dragon – a large reptilian species that was once thought to be extinct; it's capable of various elemental breaths; only the females mature to the winged stadium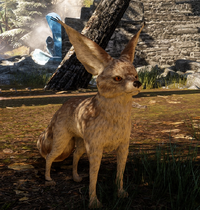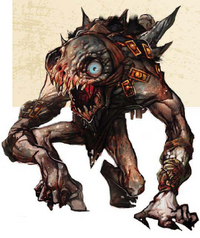 Ghast – a small, vicious creature that dwells in mountain caves
Giant – a massive creature that is common in northern Thedas, specifically Tevinter Imperium, but can be found all across the continent[59]
Griffon – a giant flying creature with a body of a lion and head, wings, and talons of an eagle; griffons are the symbol of the Grey Wardens
Grouse[65]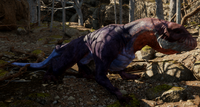 Gurgut – a brightly-colored creature that is found predominantly in wet, marshy regions
Gurn – an aggressive creature found in southern Thedas; it tends to live in herds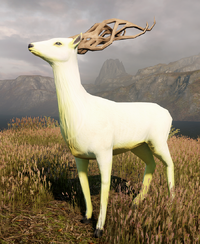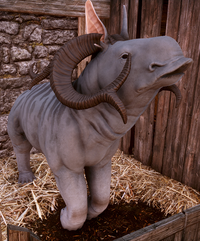 Nug – a small creature, commonly used as a food source and described as the "unholy union of pig and hare"; nugs are found throughout Thedas and come in several colours; they have small hands on their forelimbs
Nuggalope – also known as "Deth Nugs", like their smaller cousins they have hands proportional to their great size
Otter[43]
Owl – a predatory bird active at night; the Dalish view it as a symbol of Falon'Din,[87][88] as well as Andruil's messenger[89]
Oyster[93]
Pheasant[99]
Pilot whale[104]
Ptarmigan[107]
Quail[99]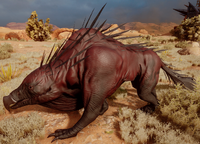 Quillback – a burgundy-colored creature with a hooked beak, saggy and rough skin, and long feather protruding along its spine
Raytooth – a black, slimy creature with a segmented tail; it resembles a ray with its mouth on the underside; it resides in the Minanter river[114]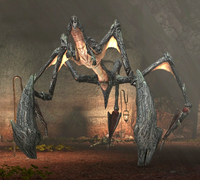 Varghest – a distant relative of wyvern and dragons; its body is covered in large scales
Varterral – a large, ancient, spider-like creature that stands on five legs
Vole[134]
Vulture[135]
Weasel[138]
Werewolf
Whitebait[18]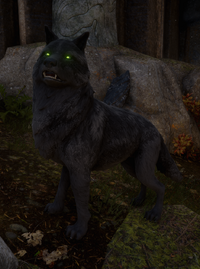 The following characters, lore and events in this section are non-canon in Dragon Age and exist only within the Dragon Age tabletop RPG.
---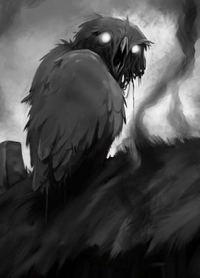 Cetus – a large and rare sea serpent called 'aban-ataashi', sea dragon, in Qunlat; it has a smooth-scaled body that conducts electricity; these creatures resid in the warm waters of the Boeric Ocean, though they do occassionally make their way south to the Waking Sea[146]
Crag Wolf[52]
Firesprite – a four inch tall, faerie-like creature with yellow skin, insect wings, compound eyes like a housefly, and two antennae; preferring to fly despite their humanoid legs, these creatures have a musty yellow glow to them and sing instead of speaking; they that live only in the Korcari Wilds
Giant Swamp Crab – these giant crustaceans are twice the size of a human[147]
Great Lion[148]
Guardian Serpent – a silver, greenish snake-like serpent that is forty feet long, with a prehensile body and tiny legs; it has two horns its head that it uses to gore its victims[149]
Lynx[52]
Marmot[52]
Moose[52]
Mountain Lion[148]
Creature research
[
]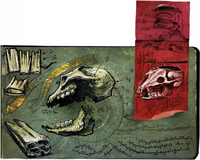 There are several researchers who focus on the study of Thedosian fauna. The Inquisition employs Minaeve and Helisma Derington to investigate local creatures and their behaviours. Professor Frederic from the University of Orlais specializes in draconology; he wrote A Study of the Southern Draconids[150] and Dragon's Testament.[151] Gregor Wurthing is the author of Halla in the Heather, Wolves in the Woods: A Naturalist's Observations.[152] Baron Havard-Pierre d'Amortisan is an Orlesian noble known for studying the most bizarre beasts of Thedas. He is the author of An Anatomie of Various Terrible Beasts.[153][154][155]
Grim Anatomy is a mysterious text written by an unknown author using an invented script. The manuscript contains numerous detailed illustrations of dissected creatures, such as nugs, giants, and wyverns. The author focuses on physiology of animal vision, apparently in an attempt to discover how a demon enters their host's mind.[156]
Flora
[
]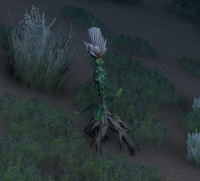 Amrita Vein – a desert plant whose roots contain water; found in the Western Approach, it was discovered by Amrita, a hedge mage who was a very talented herbalist[159]
Andraste's Grace – a small white wildflower[160]
Anise[93]
Apple tree[163]

Applewoods Variety - The apples that grow in the applewoods hold astringent and intoxicating properties.[164]

Apricot tree[163]
Arbor Blessing – a vine that is very difficult to cultivate; it produces miniscule seeds that can be carried for great distances by wind; it's theorized that Arbor Blessing only sprouts in favorable conditions, where other plants will also thrive[165]
Ash[166]
Banana – grows in Par Vollen and Rivain[167]
Barbwood – a parasitic tree that grows through the body of its host; the sap makes potent restorative potions, while extracts from the leaves are useful for transmutations, however, harvesting barbwood is dangerous[168]
Basil[102]
Bay tree[93]
Beech
Beet[172]
Blackthorn – can be used for crafting staves[175]
Bluebell[176]
Borage[13]
Bradford Tree - are known to emit a smell akin to rotting meat.[179]
Buttercup[180]
Caper[183]
Cardamom[76]
Carrot[102]
Cedar[188]
Cherry[163]
Chicory[13]
Chive[192]
Clove – one of the ingredients in a Rivaini tea blend that also contains cinnamon and ginger;[193] it's also added to ale[194] and various dishes[195][183]
Clover[196]
Cocoa – grows in the Donarks,[182], possibly also in Par Vollen or Seheron[197]
Coconut[198]
Coffee[199]
Corn[200]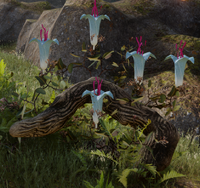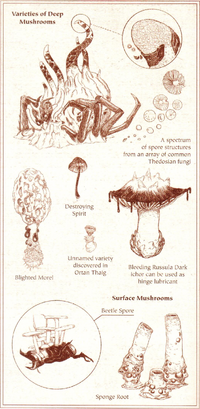 Mushroom

Deep Mushrooms – a group of fungi commonly found underground; they grow in proximity to darkspawn bodies and lyrium veins, which gives them their unique flavor and scent; consuming too many may lead to insanity, abdominal cramping, and even death; deep mushrooms should be handled by experienced herbalists; before consumption, they have to be properly cleaned and prepared;[265][266] there are several variants of Deep Mushrooms:
Surface Mushrooms

Oat[102]
Olive[183]
Orchid[272]
Oregano[102]
Palm Tree
Pansy[275]
Parsley[192]
Passion Fruit[276]
Peach[185]
Peanut[279]
Pear[195]
Peony[280]
Pepper
Pomegranate[253]
Poppy[285]
Prickleweed[287]
Primaetas – a plant that went extinct during the Second Blight, may be substituted with redmoss[262]
Prophet's Laurel – a herb known for its purifying qualities since ancient times, can be used to create poultices, tinctures, and incense; it has glossy dark leaves and red berries; according to folk legend, Andraste's followers tossed the laurel sprigs before the prophet as she was led to the pyre; Andraste's ashes fell on the leaves of the laurel and blessed them with healing qualities[289]
Pumpkin[290]
Rashvine – a plant that's commonly found in marshes; in contact with the skin, it causes a severe rash; if it gets into the blood, it causes calcification of the tissues, and the affected person may require magical healing or amputation; on the upside, it can be used to brew protective salves that harden the skin; it's also one of the primary ingredients for Antivan fire[291]
Rashvine Nettle – a plant that burns the skin, but doesn't affect the tongue; it's completely flavourless; in contact with the skin, it causes unbearable itchiness; it's an ingredient used to craft dispelling items[292]
Raspberry[253]
Rose[253]
Saffron[296]
Sage[297]
Snapdragon'[300]
Spinach[13]
Spindleweed – a plant that is often found near bodies of water; it's commonly used to season dishes for the infirm, as it's believed to speed up recovery;[301] it helps with afflictions of the lungs,[13] as well as combating fever[302]
Squash[13]
Stripweed – a grass–resembling plant that stings and causes sores; in Tevinter, it's used for making tea[307]
Sugar Cane[308]
Sundew – a plant that grows in warm climate, it traps and devours insects; its name in Qunlat is kasaanda.[309]
Sunflower[310]
Thistle[311]
Thyme[18]
Turnip[102]
Vandal Aria – a flowering shrub related to Felicidus Aria; unlike Felicidus Aria, it doesn't grow on blighted land, but it thrives in almost all other environments, prefering arid climates; similar to Felicidus Aria, Vandal Aria is not technically a rose, although it possesses a sweet scent, reminiscent of honey and cut grass[222]
Vasanthum tree – a tree that emits a very strong fragrance, its sap can be used for making perfumes, but it can also act as an undetectable poison[312]
Violet – during the War of the Lions, Empress Celene declared that wearing purple flowers is a sign of loyalty to her, leading to a shortage of violets in Orlais[313]
Whitewood[166]
Willow[316]
Witherstalk – a plant found in the Forbidden Oasis; its harvest is very time–consuming and can be used for many different purposes, including: warming draughts, contraceptive (only the fresh sap), altering the state of the mind (dried, possibly combined with other plants)[317]
Yew<[166]
Botanical research
[
]

Botany is a well-developed field of research in Thedas. Value of plants in medicine and alchemy is widely recognized. The Botanical Compendium by Ines Arancia is considered the best source of knowledge on the topic; the book has multiple editions and is found in many libraries.[318] Another botanical publication is Herbology in Thedas by Master Ilian Gravire. There are also examples of botanical maps. The Circles allow mages to study botany; Senior Enchanters may even leave the tower to conduct research in the field.[319] There is a specific college for herbalists where apothecaries receive thorough education.[320]
Trivia
[
]
Gallery
[
]
References
[
]
↑ 1.0 1.1 1.2 Dragon Age: The World of Thedas, vol. 2, p. 216
↑ 3.0 3.1 Dragon Age: Tevinter Nights, Herold Had the Plan, p. 327
↑ Dragon Age: Tevinter Nights, Eight Little Talons, p. 377
↑ Dragon Age: Tevinter Nights, Horror of Hormak
↑ Dragon Age: Core Rulebook, p.277
↑ Dragon Age: The World of Thedas, vol. 2, pp. 138,265,289
↑ Dragon Age: The World of Thedas, vol. 2, p. 265
↑ 13.00 13.01 13.02 13.03 13.04 13.05 13.06 13.07 13.08 13.09 13.10 13.11 13.12 13.13 Dragon Age: The World of Thedas, vol. 2, p. 289
↑ Dialogue between Amund and Thornton in Dragon Age: Inquisition multiplayer.
↑ 17.0 17.1 17.2 Dragon Age: The World of Thedas, vol. 2, p. 301
↑ Dragon Age: Last Flight, p. 32
↑ Dragon Age: Tevinter Nights, Down Among the Dead Men, p. 62.
↑ Dragon Age: Last Flight, p. 206.
↑ Dragon Age: The World of Thedas, vol. 1, p. 42
↑ Featured in the name of the Antivan Crows.
↑ Said by Arishok in Dragon Age II.
↑ 37.0 37.1 Mentioned in Fen'Harel's Fables
↑ Blackwall's comment about Sera.
↑ 47.0 47.1 Mentioned by Hawke in Mark of the Assassin DLC.
↑ Mentioned by one of the villagers in Stone-Bear Hold after the battle with the Jaws of Hakkon.
↑ 52.00 52.01 52.02 52.03 52.04 52.05 52.06 52.07 52.08 52.09 52.10 52.11 Dragon Age (tabletop RPG), Blood in Ferelden, p.52
↑ The author of Codex entry: The Lady of the Skies, Anashe, is an Avvar falconer.
↑ Mentioned by Svarah Sun-Hair.
↑ Dragon Age: The World of Thedas, vol. 2, p. 299
↑ Dragon Age: The World of Thedas, vol. 2, p. 211, The Tale of Corsa 'the Jackal'
↑ Dragon Age: The World of Thedas, vol. 2, p. 287
↑ 75.0 75.1 Dragon Age: The World of Thedas, vol. 2, p. 298
↑ Mentioned by Anders when talking about Ser Pounce-a-lot.
↑ A demon encountered in the Fade during the Magi Origin takes the shape of a mouse, thus confirming their existence outside the fade.
↑ Mentioned during the quest Precious Metals.
↑ , Dragon Age: Core Rulebook, p. 280
↑ Referred to in Playing the Great Game
↑ Leliana's nickname is Sister Nightingale
↑ Dragon Age: The World of Thedas, vol. 2, p. 222
↑ Landmarks in Crestwood: The Guide of Falon'Din
↑ Seen in Dragon Age: Origins at the village of Haven
↑ An ox is encounter pulling wares for Old Tegrin on the Gentle Path.
↑ 99.0 99.1 99.2 Dragon Age: The World of Thedas, vol. 2, p. 290
↑ Dragon Age: The World of Thedas, vol. 2, p. 285
↑ 102.00 102.01 102.02 102.03 102.04 102.05 102.06 102.07 102.08 102.09 102.10 Dragon Age: The World of Thedas, vol. 2, p. 288
↑ Dragon Age: The Calling, p.190
↑ Dragon Age: Tevinter Nights, Herold Had the Plan, p.329
↑ Mentioned by Sandal Feddic in Dragon Age II
↑ The Rusted Horn's menu references "mutton pie"; mutton is a cut of meat obtained from sheep that are two years of age or older.
↑ 124.0 124.1 Per description of Lurking Horrors of the Deep, a book found in the library of Kinloch Hold in the Witch Hunt DLC, see In Search of Morrigan for the complete list of the books.
↑ Dragon Age: The World of Thedas, vol. 2, p. 145
↑ In Witch Hunt DLC a book in the circle library has notes with the drawing of a tiger named Ser Pounce-a-lot eating templars in the margins.
↑ Referenced in the item named The Tiger's Tail
↑ Referenced by Fenris to Merrill's defense of demons
↑ Encountered in Dragon Age: Origins - Awakening while venturing the Blackmarsh.
↑ Mentioned in dialogue between Bianca Davri and Felim at Emprise du Lion.
↑ , Dragon Age: Core Rulebook, p.278
↑ , Dragon Age: Core Rulebook, p.308
↑ Dragon Age (tabletop RPG)Blood in Ferelden p.27
↑ 148.0 148.1 , Dragon Age: Core Rulebook, p.281
↑ Dragon Age: Core Rulebook, Blood in Ferelden, p. 33
↑ Dragon Age: The World of Thedas, vol. 2, pp. 239,250,251,256
↑

They are found in the Hissing Wastes. The tree's object name is listed as acacia in the game files

↑

Object name is listed as "blackwood" in game files.

↑ According to the description of Andraste's Grace in Dragon Age: Origins.
↑ 161.0 161.1 161.2 One of the ingredients of The Master's Salve.
↑ 162.0 162.1 162.2 Dragon Age (tabletop RPG), DLC – Creatures of Thedas ~ The Wyvern, p. 5
↑ Atop the Tower of Lights, Look west, to the Tirashan forest. Only shows with the scholar Marquis.
↑ Dragon Age: The World of Thedas, vol. 2, p. 293
↑ According to Vivienne's location comment in Swamp Kuldsdotten in the Frostback Basin.
↑ Dragon Age: Last Flight p.190
↑ 171.0 171.1 171.2 One of the crafting materials in Dragon Age II.
↑ Mentioned by Varric Tethras that he owns a beet plantation in Rivain in Dragon Age: Inquisition.
↑ Dragon Age Legends's "Petrified" quest mentions twisted birch.
↑ Seen throughout Dragon Age: Inquisition, it is labeled as boxwood in the game files.
↑ Seen throughout Dragon Age: Inquisition, it is labeled as boxwood in the game files.
↑ Seen throughout Dragon Age: Inquisition, it is labeled as boxwood in the game files.
↑ Varric's nickname for Sera in Dragon Age: Inquisition
↑ Dialogue between Thornton and Cillian in Dragon Age: Inquisition multiplayer.
↑ 182.0 182.1 182.2 Dragon Age: The World of Thedas, vol. 2, p. 292
↑ According to the description of Sun Blonde Vint-1.
↑ Seen in Dragon Age: Origins and Dragon Age: Inquisition
↑ Seen throughout Dragon Age: Inquisition, it is labeled as cattails in the game files.
↑ Dragon Age: The Masked Empire, Chapter 4
↑ Dragon Age: The World of Thedas, vol. 2, p. 41
↑ Dragon Age: The World of Thedas, vol. 2, p. 155
↑ 193.0 193.1 193.2 Dragon Age: The Masked Empire, Chapter 1
↑ Referenced in a drink proposed by a waitress in Tapster's Tavern in A Tale of Orzammar DLC.
↑ Dragon Age: The Masked Empire, p. 362.
↑ 200.0 200.1 200.2 Dragon Age: The World of Thedas, vol. 2, p. 295
↑ One of the crafting materials in Dragon Age: Inquisition.
↑ Implied by the existence of pickles Dragon Age: The World of Thedas, vol. 2, p. 92
↑ 204.0 204.1 According to the description of West Hill Brandy.
↑ Dragon Age: The Calling, Chapter 6, p. 123
↑ Seen on Dennet's farm in the Hinterlands in Dragon Age: Inquisition
↑ Seen throughout Dragon Age: Inquisition, it is labeled as daikon in the game files.
↑ Varric's nickname for Merrill in Dragon Age II
↑ 210.0 210.1 210.2 210.3 Dragon Age: The World of Thedas, vol. 2, p. 212
↑ According to the description of deathroot in Dragon Age: Origins.
↑ 213.0 213.1 213.2 Dragon Age: Tevinter Nights: Eight Little Talons, p.381
↑ Elderberry wine is mentioned in Dragon Age (tabletop RPG), Dalish Curse
↑ According to the description of elfroot in Dragon Age: Origins.
↑ Dragon Age: The World of Thedas, vol. 2, p. 166, Isabela's mother, posing as a seer, assumed the identity of "Madam Hari", after the local name for elfroot.
↑ According to Ines Arancia during the quest Ines the Botanist.
↑ Seen throughout Dragon Age: Inquisition's Jaws of Hakkon DLC, it is labeled as fern_red in the game files.
↑ Seen throughout Dragon Age: Inquisition's Jaws of Hakkon DLC, it is labeled as fern_sword in the game files.
↑ Beraht is able to purchase figs from the surface to bribe the guards in Orzammar during the Dwarf Commoner Origin
↑ Mentioned by Sten when sharing one of the Qun#Parables parables of the Qun.
↑ 228.0 228.1 According to the description of Concentrator Agent.
↑ Banter between The Iron Bull and Cassandra
↑ As seen during the quest the Herbalist's Tasks.
↑ Dragon Age: The Calling, Chapter 6, p. 128
↑ Seen in Dragon Age: Inquisition, it is labeled as hero in the game files.
↑ 238.0 238.1 War table operation Dance with the Dowager: The Allemande.
↑ Dragon Age: The Masked Empire, Chapter 12
↑ Dragon Age: Tevinter Nights: Down Among the Dead Men, p. 57; Hunger, p.188
↑ Dragon Age: The Stolen Throne, Chapter 3
↑ Mentioned as part of Bram Kenric's memory aid to remember the Elven pantheon, as heard during Ameridan's End.
↑ 246.0 246.1 Dragon Age: The World of Thedas, vol. 2, p. 84
↑ Dragon Age: The World of Thedas, vol. 1, p. 37
↑ Dragon Age: The World of Thedas, vol. 2, p. 158
↑ According to the description of Blood Lotus in Dragon Age: Origins.
↑ According to the description of Madcap Bulb.
↑ War table mission Plant Crystal in Venatori Headquarters.
↑ Dragon Age: Tevinter Nights, Dread Wolf Take You, p. 471
↑ An ingredient in Swift Salve
↑ Dragon Age: The World of Thedas, vol. 2, p. 138
↑ Combat comment from Merrill when taking a potion.
↑ Dragon Age: The World of Thedas, vol. 2, p. 141
↑ Trees are possessed by the Grand Oak in Dragon Age: Origins.
↑ Seen throughout Dragon Age: Inquisition's Jaws of Hakkon DLC, it is labeled as curly palm in the game files.
↑ Seen throughout Dragon Age: Inquisition's Jaws of Hakkon DLC, it is labeled as fan palm in the game files.
↑ Mentioned in Sten's Fade dream in Dragon Age: Origins.
↑ Dragon Age: The World of Thedas, vol. 2, p. 238
↑ Seen throughout Dragon Age: Inquisition, it is labeled as pine in the game files.
↑ Seen throughout Dragon Age: Inquisition, it is labeled as boxwood in the game files.
↑ Dragon Age: The World of Thedas, vol. 2, p. 86
↑ Dragon Age: The World of Thedas, vol. 2, p. 276
↑ Mentioned by Gamlen in a conversation with Leandra during Birthright.
↑ Mentioned by Leliana when visiting the Valence Cloister.
↑ Mentioned by Ines Arancia during the quest Ines the Botanist
↑ Dragon Age: The World of Thedas, vol. 2, p. 304
↑ According to the description of Rashvine Nettle.
↑ Location remark made by Iron Bull in Crestwood.
↑ Location comment by Sera when exploring the Storm Coast.
↑ Dragon Age: Tevinter Nights: The Horror of Hormak, p. 77
↑ Seen in Orlais planters in Dragon Age: Inquisition, it is labeled as snapdragon in the game files.
↑ Seen throughout Dragon Age: Inquisition, it is labeled as spruce in the game files.
↑ Seen throughout Dragon Age: Inquisition as vegetable piles, it is labeled as marrow in the game files.
↑ Dragon Age: The Calling, p. 81
↑ Banter between Morrigan and Sten, which implies sundew is found in the Qunari lands and rarely in the southern Thedas
↑ Location comment made by Vivienne when nearing the Oasis in the Hissing Wastes.
↑ Dragon Age: The Masked Empire, Chapter 11, p. 223
↑ Dragon Age: The World of Thedas, vol. 2, p. 201, elven lullaby "Where Willows Wail"
↑ Dragon Age: The World of Thedas, vol. 2, p. 137
↑ As seen during the quest Ines the Botanist.
↑ As mentioned by Elan Ve'mal, she and Adan had studied there.
↑ As seen during the quest A Father's Name, supported by comments made by Solas, Vivienne, Dorian Pavus, and Cole after killing one of the Fade-touched creatures.
↑ Dragon Age: The World of Thedas, vol. 2, p. 25
↑ Dragon Age: The World of Thedas, vol. 2, p. 113