East Road Bandits is a side quest in Dragon Age: Inquisition.
Bandits are attacking refugees along the King's Highway east of the Crossroads.
Acquisition
[
]
Upon traveling northeast from the Crossroads, towards the East Road, the Inquisitor will run into recruit Belette. She mentions that the road to the east is being attacked by bandits.
Walkthrough
[
]
Note: This quest is one part of a larger, unmarked side quest to help the people of the Hinterlands; see Corporal Vale's character page for further information. This quest is also part of a series of quests relating to the Hinterlands' lyrium smuggling operation, see Grand Forest Villa for further information.
The map will be marked with locations for three groups of Outlaws, which need to be found and dispatched to complete the quest. The groups consist of Outlaws and Outlaw Archers; the last group will also have an Outlaw Enforcer.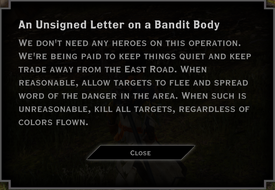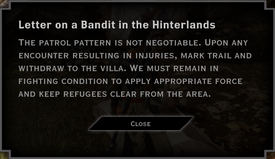 After confronting the second bandit group, two letters can be found:
Proceed to the third confrontation point and eliminate all the Outlaws to complete the quest.
After dealing with the last group, the Inquisitor can claim a nearby camp as part of the side quest Holding the Hinterlands. For extra XP, locate the codex entry: An Unsigned Letter in the Hinterlands at the Inquisition camp. The entry details why this particular area was overrun with "fake bandits."
After completing the quest return to Belette, and she will mention that Corporal Vale will be glad to hear of the news.
Rewards
[
]
177 XP
Influence 80
Power 1
Codex entries
[
]
Note texts
[
]
See also
[
]