Welcome to The Dragon Age Wiki!
The wiki about Dragon Age that anyone can edit.
13,004 articles since November 2008
| | | |
| --- | --- | --- |
| Error: Image is invalid or non-existent. | Error: Image is invalid or non-existent. | Error: Image is invalid or non-existent. |
| Characters | Classes | Creatures |
| Error: Image is invalid or non-existent. | Error: Image is invalid or non-existent. | |
| Locations | Lore | Quests |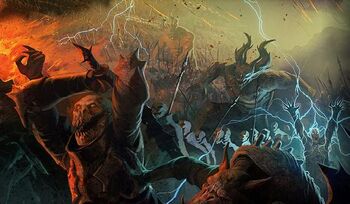 A Blight (upper case 'B') is the term given to the event of the darkspawn corrupting one of the Old Gods and rising with it to the surface world. While darkspawn can occasionally be found raiding on the surface world, it is not termed an actual Blight unless an Archdemon leads them.

The darkspawn are always a threat, but normally they are scattered and disorganized, only plaguing the underground caverns and tunnels that were once inhabited by the dwarven kingdoms. These caverns and tunnels are called the Deep Roads and extend throughout Ferelden. A Blight changes all that.

When the darkspawn discover one of the Old Gods - ancient dragons slumbering in the depths of the earth - they infect it with their taint, and it rises as an Archdemon. Unified by its will, the darkspawn surge up from their tunnels and spread like locusts across the surface of the lands, destroying all in their path. Survivors are dragged underground to an unknown fate, water sours, crops are spoiled, the land is poisoned and animals sicken. The only way to end a Blight is to defeat the Archdemon, and the only ones who have ever managed such a feat are the Grey Wardens. As such, the order holds the respect of most nations, though their presence in Ferelden is the weakest of them all. The chilling thought is that this Blight has begun to spread from Ferelden for precisely that reason.

Refresh page to see new article...
News

Henio0
•
6
There it is, fellow Thedosians. Out of the blue, BioWare have released a sneak preview of the the next installment of the Dragon Age series, for IGN's gamescom 2020. Unlike the previous video, this one is entirely devoted to the next Dragon Age, and it is chock full of concrete information, ranging…

Henio0
•
2
In an ocean of silence surrounding the production of the next Dragon Age, a droplet of news will seem like spotting a glimpse of land over the horizon.
During their annual EA Play, in the segment about the "future of gaming", i.e. the next-gen consoles of PS5 and Xbox Series X, EA's Chief Studios Of…
A new Dragon Age comic has been announced for release on January 15th, 2020.
Entitled "Dragon Age: Blue Wraith", the 3-issue mini-series will feature Fenris prominently. According to a release from Comicbook.com, "Dragon Age: Blue Wraith starts off with the fanatical Qunari seeking to topple the Te…
See more >
More news...
Community content is available under
CC-BY-SA
unless otherwise noted.