m

m (Changing Trailers section into Gallery section, similar to the current Gallery section on the Inquisition page.)

Line 212:
Line 212:
 

*Video Cards Not Supported: Intel GMA series, Nvidia 7x00 series, AMD 1x00 series, AMD 2400

 

*Video Cards Not Supported: Intel GMA series, Nvidia 7x00 series, AMD 1x00 series, AMD 2400

 
 
−

== Trailers ==

+

====

 
+

<tabber>

−

[[Video:Dragon Age 2 Trailer - Destiny Extended|thumb|400px|left|''Dragon Age II'' trailer, "Destiny" extended, by Digic Pictures.<ref>[http://www.digicpictures.com/#works/game_cinematics?sub=dragon_age_2 "Dragon Age 2"]. Digic Pictures. Retrieved 2011-01-08.</ref>]]

 
 
+

Concept art=

−

{{clr}}

 
 
+

<gallery widths="250" spacing="small" position="center" captionalign="center" orientation="landscape">

−
 
 
+

Kirkwall concept art 2.jpg

−

* [http://www.youtube.com/watch?v=K8mn1rVakZg Rise to Power trailer]

 
 
+

Market concept art.jpg

−
 
 
+

Hightown.jpg

−

* [http://www.youtube.com/watch?v=bbnK885PL8E Champion Trailer]

 
 
+

Hightown-02-p.jpg

 
+

TheGallows.jpg

 
+

Lowtown-01-alley-p.jpg

 
+

Lowtown-02-market-c.jpg

 
+

Viscount's Keep concept art.png

 
+

The Black Emporium concept art.jpg

 
+

Kirkwall concept art.jpg

 
+

Kirkwall concept art 3.jpg

 
+

Kirkwall concept art 4.jpg

 
+

Deep Roads gate concept art.jpg

 
+

Deep Roads DAII concept art.jpg

 
+

Sundermount-01-p.jpg

 
+

Blightlands concept art.png

 
+

</gallery>

 
+

|-|

 
+

Trailers=

 
+

<gallery widths="180" spacing="small" position="center" captionalign="center">

 
+

Video:Dragon Age 2 Trailer - Destiny Extended|''Destiny'' extended trailer

 
+

Video:Dragon Age 2 Rise to Power Trailer|''Rise to Power'' trailer

 
+

Video:Dragon Age II Champion Trailer|''Champion'' trailer

 
+

</gallery>

 
+

</tabber>

 
 
 

== Trivia ==

 

== Trivia ==
---
Revision as of 18:03, 3 January 2014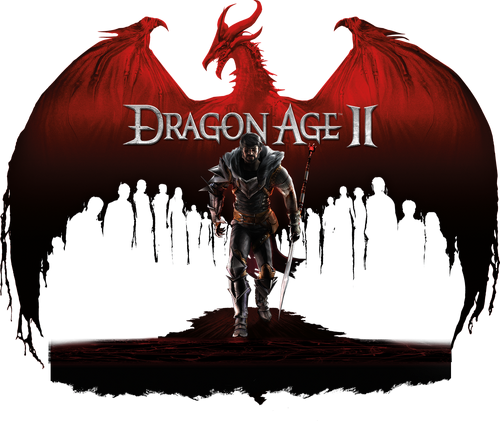 Dragon Age II is the sequel to Dragon Age: Origins developed by BioWare. It was announced for PlayStation 3, PC and Xbox 360 on July 8, 2010[1] and for Mac on January 12, 2011.[2] It was released on March 8, 2011 in the U.S., and March 11, 2011 in Europe. A demo was released on February 22, 2011.[3] The first CGI trailer, Destiny, was released on August 17, 2010.[4] A sequel, Dragon Age: Inquisition was announced by BioWare on September 17, 2012. [5]
Plot
Spanning over a decade, Dragon Age II traces Hawke's rise to power in the political chaos of Kirkwall. Hawke's family flees the destruction of Lothering during the Fifth Blight, traveling to the Free Marches and eventually influencing the fate of all Thedas. Hawke ultimately becomes the Champion of Kirkwall, embroiled in intrigues that will change the world forever.
Hawke's story is framed by the narration of Varric Tethras, who is being interrogated by Cassandra Pentaghast - a Seeker of the Chantry who wants the Champion's aid (or reckoning).
Major characters
1Requires Downloadable Content
Secondary Characters
Cameos
Provided they survive the events of Origins, Awakening and any associated DLC, a few characters from the previous games may make cameo appearances at some point in Dragon Age II.
Gameplay
Key features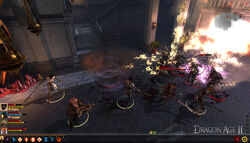 Protagonist's identity is fixed (other than gender). [6]
New narrative style, set over the course of a decade.
Overhauled combat mechanics that emphasize the uniqueness of each class.
Updated graphics and a new visual style.
More cinematic interactions and romance with companions.[7]
Races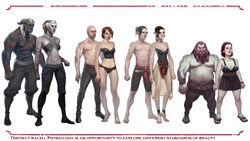 Dragon Age II features a greater difference between races. Dwarves, elves and Qunari have all seen revisions since the previous game.[8]
Dragon Age II allows the player to import saves from any completed (or almost-completed) Dragon Age: Origins playthrough (and saves from add-on campaigns to which such a save was imported). While the main characters are completely different and separate, the choices of The Warden made in Origins will be reflected in Hawke's world.[9] Choices from Dragon Age: Origins - Awakening, The Golems of Amgarrak, and Witch Hunt will also be imported (but see below; the information may simply be transferred in case of applicability to future content/sequels. The player must import saves in a single chain tracing all the way back to Origins to properly import all game data (i.e. rather than separate transfers to respective DLC).[10] PC and Mac saves are interchangeable by copying the character's folder between \Documents & Settings\Bioware\Dragon Age\Characters\ and ~/Documents/Bioware/Dragon Age/Characters/.
Note: BioWare has stated that the DLC packs Return to Ostagar, Darkspawn Chronicles, Leliana's Song, Golems of Amgarrak and Witch Hunt have no plot flags that are checked inside of Dragon Age II.[11]
There were initially several issues with the choices made in Awakening and Origins not importing correctly, most notably the reappearance of characters who may be killed in Origins and the apparent death of Nathaniel in Awakening if the player left him to defend the keep (even if the epilogue says he survived). David Gaider confirmed that Leliana was deliberately included regardless of her Origins survival status, but that the 'resurrection' of other characters were glitches.
Instead of importing, players may select from three pre-built histories (derived from the numerous epilogue possibilities of Origins):[12]
"Hero of Ferelden" (default if no choice is made): A young man from a noble family rose to become a Grey Warden, then ended the Fifth Blight by landing the Arch--which he survived. He always strove for the greater good, and placed his friend Alistair on the throne of Ferelden.
"The Martyr": Ferelden will forever remember the young Dalish elf who died to kill the fifth Archdemon. Even though she had reason to be cynical, her actions always benefited others. She left a kingdom ruled jointly by Alistair and Anora.
"No Compromise": A ruthless dwarven noble took command of Ferelden's Grey Wardens, then let nothing stand between him and victory. He exiled Alistair, sent Loghain to his death against the Archdemon, and left Anora on Ferelden's throne.
Dialogue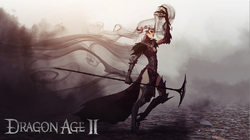 The dialogue system of Origins is replaced with a Dialogue Wheel, similar to those used in BioWare's Mass Effect series - a key difference being that in Dragon Age II, mousing over each dialogue option reveals a symbol indicating the tone of the line.[13] There are usually at least three options on the wheel each time Hawke has the opportunity to say something, never fewer than two, and never more than six.
Another added feature in contrast to Origins is that the player character is fully voiced - the male Hawke by Nicholas Boulton,[13] and the female Hawke by Jo Wyatt.
Relationships with companions
Dragon Age II uses a Friendship and Rivalry system. In addition to unlocking advantages and dialogue based on 'positive approval' (which the Origins system was limited to), it provides the option to develop an intensely antagonistic (but productive) relationship with any and each companion.[14] (As in Origins however, significant actions and plot developments can prompt a companion to turn on Hawke, regardless of relationship status. Also note that the Friendship and Rivalry system does not determine the respect a companion has for Hawke.) Gifts prompt their own distinct dialogues.[14]
Romances
Dragon Age II features romances "for all genders and orientations."[15] The potential partners are Anders, Fenris, Isabela, Merrill, and (with DLC) Sebastian.
Crafting
In Origins, making bombs, medicine, poison and traps required learning recipes and collecting the ingredients in Inventory. In the new system, rather than carrying components around, Hawke simply needs to discover a source for each ingredient. For example, once a strain of Elfroot has been found, all crafting vendors will stock it. The challenge is now to find sources for raw materials, particularly different strains of components. The system has been hailed as elegant for rewarding exploration rather than hoarding (and simplifying inventory in the process).[16]
Talent trees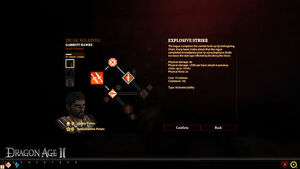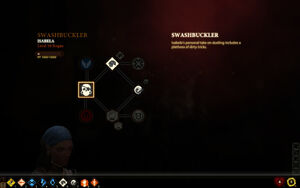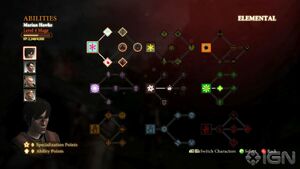 The linear progression of the talent trees in Origins meant that the player frequently had to spend valuable points on talents the player never had any intention of using in order to acquire the one most wanted. The talent trees in Dragon Age II are, well, more like trees - even resembling webs on the Abilities screens - and offer more than one path to several abilities in each (for example, upgrades of an existing ability will branch off from the base ability while leaving open a path to one or more entirely different abilities). There are still restrictions to limit 'powergaming': the familiar "level required", and a new aspect of some abilities requiring a minimum spent anywhere else in the same tree.[16]
Technology
In an interview with Joystiq, BioWare VP Greg Zeschuk stated, "I think one of the key things we're working on in Dragon Age II is the technology. I can confirm that we're doing a lot of work on the Dragon Age engine, and doing a lot of stuff to pump it -- to make it visually super hot."[17] Mike Laidlaw has also confirmed the use of DirectX 11 for the PC version of Dragon Age II.[18]
Editions
Demo
On February 22, 2011 a demo was released. It contained approximately one hour of play, taking players through the entire prologue plus a segment in Kirkwall featuring Isabela later in the game.
Downloadable content
Unlockables
Note: As of December 2012, all promotional and exclusive items (except for Blood Dragon Armor and Ser Isaac Armor) for Dragon Age II can be unlocked for free by anyone with a Bioware Social Network account. See here for more information.
Items available through certain events
Add-ons
Easter eggs
System requirements
Recommended System Requirements
CPU: Intel Core 2 Quad 2.4 GHz Processor or equivalent
CPU: AMD Phenom II X3 Triple core 2.8 GHz or equivalent
RAM: 2GB (4 GB Vista and Windows 7)
Video: ATI 3850 512 MB or greater
Video: NVIDIA 8800GTS 512 MB or greater
DirectX 11: ATI 5850 or greater
DirectX 11: NVIDIA 460 or greater
Minimum System Requirements
OS: Windows XP 32-bit with SP3
OS: Windows Vista 32-bit with SP2
OS: Windows 7
CPU: Intel Core 2 Duo (or equivalent) running at 1.8 GHz or greater
CPU: AMD Athlon 64 X2 (or equivalent) running at 1.8 GHz or greater
RAM: 1 GB (1.5 GB Vista and Windows 7)
Video: Radeon HD 2600 Pro 256 MB
Video: NVIDIA GeForce 7900 GS 256 MB cards
Disc Drive: DVD ROM drive required
Hard Drive: 7 GB
Sound: Direct X 9.0c Compatible Sound Card Windows Experience Index: 4.5
Minimum System Requirements for Mac
OS: OS X 10.6.6 Snow Leopard or greater
CPU: 1.86 GHz Intel Core 2 Duo or better
RAM: 2 GB or greater
Video: ATI HD2600, NVIDIA 9400, or better graphics card with at least 256 MB of dedicated VRAM
Disc Drive: DVD ROM drive required
Hard Drive: 9 GB of hard drive space required
Video Cards Not Supported: Intel GMA series, Nvidia 7x00 series, AMD 1x00 series, AMD 2400
Gallery
Trivia
The working title for the game was Dragon Age: Exodus. It can still be found in some of the game's files. This was also confirmed by Mark Darrah.[19]
References
External links
Dragon Age series
Dragon Age: Origins

Dragon Age II

Dragon Age: Inquisition

Dragon Age 4

Books
Comics
Films
Novels
Web series
Others
Community content is available under
CC-BY-SA
unless otherwise noted.