Dragon Age: Origins Digital Deluxe Edition is the digital premium edition of Dragon Age: Origins that is available for the PC via Steam, Origin, or Direct2Drive.
This premium edition's contents include the game, wallpapers and the digital soundtrack to the game. It also includes codes for DLCs that grant players access to three exclusive in game items and three downloadable contents - The Stone Prisoner, Warden's Keep and Blood Dragon Armor.
Contents
[
]
The Dragon Age Origins Digital Deluxe Edition comes with:
Items
[
]
The following items are available in this downloadable content and may be found in the inventory when the game begins, or purchased from Bodahn Feddic in the party camp.

Bergen's Honor, a massive helmet made out of dragonbone that provides a huge bonus to physical resistance.
Grimoire of the Frozen Wastes, a special tome that adds +3 attribute points when read.

Final Reason, a magical staff of immense power.
The Stone Prisoner

[

]
The Stone Prisoner features an unlockable bonus quest and unlockable character, Shale. With The Stone Prisoner download pack, players will have access to Shale, the mighty stone golem who can become one of the most powerful party members in the game, and comes with its own personal back-story and unique quests for the player to discover. The Stone Prisoner will also include new environments, items and hours of additional gameplay, further deepening the epic Dragon Age experience.
Warden's Keep

[

]
Warden's Keep will grant players access to Soldier's Peak, two new talents and spells per class from the Power of Blood school, two new achievements, and items. In addition, Warden's Keep will include two new merchants and a Party Storage Chest that allows the player to store additional inventory. This downloadable content is not free in the physical premium edition and must be purchased separately.
Blood Dragon Armor
[
]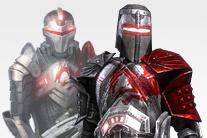 The Blood Dragon Armor is an exclusive in-game item, for use in Dragon Age: Origins and Mass Effect 2.
Dragon Age series
Dragon Age: Origins

Dragon Age II

Dragon Age: Inquisition

Dragon Age: Dreadwolf

Books
Comics
Films
Novels
Web series
Others