Dragon Age: Inquisition Game of the Year Edition is the final premium edition of Dragon Age: Inquisition. It was released on October 6, 2015, and is available on PC, PS4, and Xbox One.
This edition includes the main game plus all story and gameplay DLC's released.
Content
[
]
In addition to the base game, the following content is available with the GOTY edition:
Item packs
[
]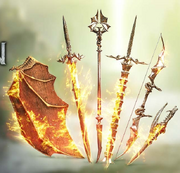 The promotional items that match your starting class will be available in the Special Shipments chest upon waking in Haven:
Schematics
[
]
Additional Mounts
[
]
Bog Unicorn - an undead horse with a sword stuck in its skull.
Other
[
]
Notes
[
]
DA:I Game of the Year is available digitally on PC, Xbox One, and PS4. A physical copy can purchased for gaming consoles; there is no physical release of this version available for PC.
Physical copies for PS4 and Xbox One included the base game and codes for all downloadable content. Used copies of DA:I Game of the Year will most likely not include any DLC content, as DLC codes cannot be redeemed more than once.
Gallery
[
]
References
[
]
Dragon Age series
Dragon Age: Origins

Dragon Age II

Dragon Age: Inquisition

Dragon Age: Dreadwolf

Books
Comics
Films
Novels
Web series
Others