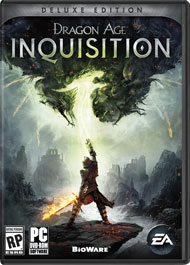 Dragon Age: Inquisition Deluxe Edition is the premium edition of Dragon Age: Inquisition. It is available on PC, Xbox One, Xbox 360, PS4 and PS3 for North America, and was released on November 18, 2014; it was released on November 21, 2014 in Europe[1], however, the PC version of this edition is unavailable in Europe. A digital version of this edition is available for all platforms.
In addition to the base game, the deluxe edition includes:
Item packs
Edit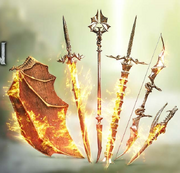 The promotional items that match your starting class will be available in the Special Shipments chest upon waking in Haven:
Schematics
Edit
Additional Mounts
Edit
Bog Unicorn - an undead horse with a sword stuck in its skull.
Skyhold Throne - a throne made of dragon bone is made available for the Inquisitor and placed in the Inquisition's headquarters at Skyhold.
Digital soundtrack.
Additional bonus digital content - Deluxe Edition Multiplayer chests which include a Starter and a Deluxe Edition chest.
References
Edit
↑ Gamestop - Dragon Age Inquisition Deluxe Edition
Dragon Age series
Dragon Age: Origins

Dragon Age II

Dragon Age: Inquisition

Books
Comics
Films
Novels
Web series
Others
Community content is available under
CC-BY-SA
unless otherwise noted.