Dragon Age: Inquisition is an upcoming sequel to Dragon Age: Origins and Dragon Age II and is currently in development by BioWare.[1][2] It was first (informally) announced on Twitter, the evening of May 19, 2011, by BioWare's Creative Lead Alistair McNally.[2] It was then formally confirmed as Dragon Age III: Inquisition on September 17, 2012 in an open letter by Executive Producer Mark Darrah.[3] It was revealed during Electronic Arts' E3 2013 press conference that Dragon Age: Inquisition will be released in the fall of 2014. The game is set to be released on PlayStation 3, PlayStation 4, Xbox 360, Xbox One, and PC.[4]
Development
BioWare is planning on combining elements of earlier installments in the series, Dragon Age: Origins and Dragon Age II, into the creation of Dragon Age: Inquisition.[1]
Combat is also expected to differ somewhat from its predecessors and focus more on a player's ability to prepare, position and form a cohesive team with his or her party members, requiring fewer repetitive finger strikes but better thinking.[5] The armour customisation will differ from both Dragon Age: Origins and Dragon Age II, in that each party member will have interchangeable armour pieces that will customise the look according to its specification and class.[6] They will also refrain from reusing environments, a common criticism of Dragon Age II.[7] Cinematic designer Jon Perry said that "one level in Dragon Age 3 is as big as all of the levels in Dragon Age 2."[8]
Ray Muzyka, the CEO of BioWare, said in an interview with Wired.com that Dragon Age: Inquisition would be influenced by more open world games, such as The Elder Scrolls V: Skyrim, which BioWare is "checking out aggressively."[9]
BioWare will use a brand new engine which will use Frostbite 3 as a foundation.[10]
It has been confirmed by David Gaider that the Game will feature "multiplayer in some form." It is not known yet what the Multiplayer element will be. [11]
Producer Cameron Lee has implied that there may be some form of "castle-controlling" mechanics.[12]
The game will have creatures new to the series.[13]
Gameplay
Although touted as an "open world" game at E3 2013 presentation, the developers quickly clarified that Inqusition will not be open world in the same way as The Elder Scrolls V: Skyrim, but instead simply feature larger locations (than presumably Origins and Dragon Age II) with more exploration freedom.[14]
Plot
According to Aaryn Flynn from BioWare, the narrative of Dragon Age: Inquisition will involve investigating a tear in the Veil, a breach into the Fade. [15]
The protagonist of this installment will be known as The Inquisitor, following the player characters of previous two games of The Warden, The Warden-Commander, and The Champion. [15] The Inquisitor will be a human, with the ability to choose an origin by the player. Unlike in Dragon Age: Origins, this background will not be playable, but will still have a noticeable impact on the plot.[8] Mike Laidlaw has stated that playing as a different character "does not mean your old character may never appear in future games," which could indicate that the new protagonist will be able to meet Hawke and the Warden (provided that the latter survived the events of Dragon Age: Origins).[16]
The game will be set in Thedas, and it has been heavily implied that the game will be set primarily in Orlais. The game will cover more geographic territory than its predecessors, with one map being described as four to five times the size of Ferelden, the setting of the first game in the series.[5]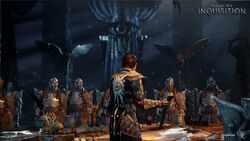 BioWare mentioned that the main plot will be "saving the world from itself." The plot will involve an all out war between mages and templars, the foundations of which comprise the main plot of Dragon Age II. Along with the larger size of the game map, the player will be able to travel to countries such as Tevinter to calm or encourage the fighting.[5]
According to Dragon Age writer David Gaider, the story of the Warden "is over" and Hawke's was continued through Dragon Age II downloadable content. The story in Dragon Age: Inquisition will be much more open-ended than the previous games.
Laidlaw also confirmed the ability for players to import their save files from the first two games into Dragon Age: Inquisition to "shore up world consistency."[16] Mark Darrah later stated that BioWare is looking into creating ways to include choices made in previous titles without the need for a Save File transfer system.[8]
The subtitle Inquisition has been previously hinted by the Dragon Age 2 strategy guide's epilogue, which asked "Will some kind of inquisition be at the heart of events of the next Dragon Age title?"[17] David Gaider has also said, "It'd be interesting to see if the Inquisition ever rose up again."[18]
Characters
Locations
Gallery
References
↑ 1.0 1.1 Jessica Conditt [1] "Muzyka: Bioware to throw previous Dragon Age games into a blender for next title". 2011-08-21. Retrieved 2012-01-28.
↑ 2.0 2.1 James Ransom-Wiley [2] "Dragon Age 3 artists wanted, Bioware sr. director tweets". 2011-05-20. Retrieved 2012-01-28.
↑ 5.0 5.1 5.2 Mike Scramm [4] "Bioware hints at the future of Dragon Age DLC and 3". 2011-08-31. Retrieved 2012-01-28.
↑ David Gaider [5] "Follower Customisation in Dragon Age". 13th of April, 2012. Retrieved 10th of May, 2012.
↑ Tom Senior [6] "Dragon Age 3 won't reuse levels, will feature follower customisation". 13th of April, 2012. Retrieved 10th of May, 2012.
↑ Jason Schreier [7] "BioWare: Next Dragon Age Will Draw From Skyrim". 2011-12-20. Retrieved 2012-01-28.
↑ Gaston, Martin (2013-03-28). "Next Mass Effect and Dragon Age games using Frostbite 3". GameSpot. Retrieved 2013-03-28.
↑ David Gaider [8] " Can we get a BioWare person to explian wtf is going on?".2012-09-06. Retrieved 2012-09-09.
↑ "You should see at least one new major type of demon in DA3." David Gaider. "There should be a Despair Demon" . BioWare Social Network. Retrieved on July 8, 2013.
↑ Allan Schumacher Forum post in the thread "DA: Inquisition at E3 Thread - DAI Interview with Aaryn Flynn". 2013-06-11. Retrieved 2013-06-16.
↑ Thedas UK (January 14, 2012). "David Gaider Interview". Retrieved September 17, 2012.
↑ Mitch Dyer. "E3 2013: Dragon Age Inquisition and the Next Generation". IGN. Retrieved on June 22, 2013.
↑ 20.0 20.1 20.2 "As you saw in the trailer, Morrigan, Varric & Cassandra play a role in the game." Chris Priestly. "Article on title of Inquisition vs DA3" . BioWare Social Network. Retrieved on June 22, 2013.
↑ Aaryn Flynn. "BioWare GM Aaryn Flynn Reflects on E3 2013". BioWare Blog. Retrieved on June 22, 2013.
↑ 22.0 22.1 Pax Prime 2011: Dragon Age Panel Secrets Revealed Retrieved on 10 July, 2013.
External links
Dragon Age series
Dragon Age: Origins

Dragon Age II

Dragon Age: Inquisition

Books
Comics
Films
Novels
Web series
Others