The Deserted Building becomes available (on the Denerim City Map) after finding the journal of the dead templar in the Run-Down Back Street. The building itself consists of several large rooms and is home to numerous blood mages and mercenaries.

The Last Request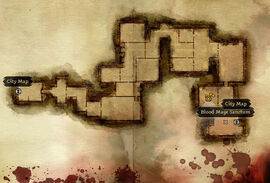 Notable items
Edit

Dalish Battery
Dalish Battery
---
Ring
A spiraling weave of lyrium circles the band of this ring, somehow drawing and storing energy from the very air.

+10% electricity damage

Magister's Shield
Magister's Shield
---
Amulet


The air around this simple silver chain seems to shimmer slightly, and the chain itself feels weighty, as if it were something far more substantial.



+6 defense
+12 defense against missiles
+4% spell resistance
-10% nature resistance

Bedroom Key
Bedroom Key
---
Key


An ornate brass key.



Special objects
Edit
Community content is available under
CC-BY-SA
unless otherwise noted.