Denerim Market District is the center of commerce in Denerim and home to quite a few merchants, several businesses but also has been known to attract some of the seedier elements of society.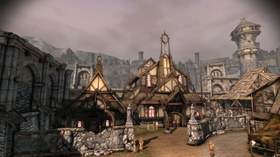 Notable gifts for companions:

Ale, source: Sold by Bartender at Gnawed Noble Tavern.

Ancient Map of the Imperium, source: At Wonders of Thedas.

Map of the Anderfels, source: Chest in Market Warehouse (in the Warden Cache).
Remarkable Garnet, source: At Wonders of Thedas.
Steel Symbol of Andraste, source: Chest at Brother Genitivi's Home.

Tiara, source: steal from Habren
If you unsuccessfully steal from anyone in the Market District then when you travel on the Denerim City Map you will eventually have a random encounter where you are attacked by a Guard and sixteen Soldiers who recognize you as a thief. Two of the most difficult NPCs to steal from in the market are Master Ignacio and Sergeant Kylon.

After this you will eventually have another random encounter when travelling on the Denerim City Map with a Guard and nineteen Soldiers; they recognize you as a thief who already wiped out the first patrol.

Codex entry: The Chant of Light: Redemption

Codex entry: The Noladar Anthology of Dwarven Poetry
Community content is available under
CC-BY-SA
unless otherwise noted.