Deep Roads Grotto is a section of the Deep Roads right outside of the Amgarrak Thaig.
Involvement
Edit
The Warden-Commander of Ferelden meets Jerrik Dace in this location and together with his bronto named Snug venture to Amgarrak Thaig after activating a Runic Golem. The Grotto however is inhabited by darkspawn and undead which attack the party as soon as they are encountered.

In Search of Amgarrak


The Runic Golem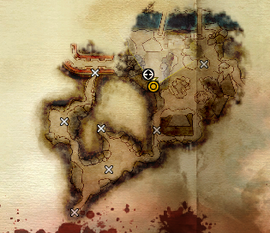 Near entrance:
Mist-Filled Chamber:
Ritual Site:
Notable items
Edit

Golem Control Rod
Golem Control Rod
---
Plot item
The origins and meaning of this thing are a mystery.

, found in the west alcove of the mist-filled chamber

Mage's Running Boots
Mage's Running Boots
---
Light boots
Dragon Wing (Tier 8)

Armor: 2.50
Fatigue: 0.63%
+10% chance to dodge attacks
Chance to avoid missile attacks
, found on a charred corpse, presumably Nereda