Arcane: League of Legends - The Loop
Play Sound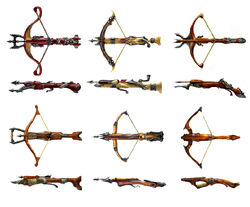 Crossbows are ranged weapons that use bolts for ammunition. Crossbows have the greatest range and intrinsic damage, particularly against armored enemies, but take significant time to reload. Crossbows can be loaded with special bolts which deal additional effects like elemental damage or knocking back the opponent. Furthermore, their requirement is strength-based, not dexterity-based like bows. Due to the physical design of a crossbow, their damage is not affected by any stat (just as higher strength would not make a bullet fire harder). This gives them a disadvantage to high level archers, but makes them well-suited for low-level archers, or as alternate weapons for warriors.
Increasing Damage
[
]
Damage can be increased in a few different ways when it comes to crossbows.
Tier up the weapon material using Exploits.
Properties
[
]
| Name | Attribute | Attribute Modifier | Aim Time | Speed Modifier |
| --- | --- | --- | --- | --- |
| Crossbows | -- | -- | 0.8 | 0.0 |
Scaling
[
]
| Tier | Base damage | Armor penetration | Critical chance | Range | Requisite | Runes |
| --- | --- | --- | --- | --- | --- | --- |
| Elm (Tier 1) | 8.00 | 5.00 | 2.00 | 40.00 | 10 strength | 0 |
| Ash (Tier 2) | 8.80 | 6.00 | 2.20 | 42.00 | 12 strength | 0 |
| Yew (Tier 3) | 9.60 | 7.00 | 2.40 | 44.00 | 14 strength | 1 |
| Whitewood(Tier 4) | 10.40 | 8.00 | 2.60 | 46.00 | 18 strength | 1 |
| Ironbark (Tier 5) | 11.20 | 9.00 | 2.80 | 48.00 | 24 strength | 2 |
| Sylvanwood (Tier 6) | 12.00 | 10.00 | 3.00 | 50.00 | 26 strength | 2 |
| Dragonthorn (Tier 7) | 12.80 | 11.00 | 3.20 | 52.00 | 30 strength | 3 |
| Vhenadahl (Tier 8) | 13.60 | 12.50 | 3.40 | 54.00 | 34 strength | 3 |
| Ancestral Heartwood (Tier 9) | 14.40 | 13.75 | 3.60 | 56.00 | 38 strength | 3 |
Crossbows
[
]
Dragon Age: Origins

[

]
Dragon Age: Origins - Awakening

[

]
Name
Damage

Critical chance
Armor penetration
Strength modifier
Runes
Enhancements
Notes
Beastmaster
Dragonthorn
Requires: 30 strength
12.80
3.20%
11.00
0
+2 damage
Rapid aim
+20 damage vs. beasts
Found inside a chest near the ballista during The Assault on Vigil's Keep quest.
Longshot
Ancestral Heartwood
Requires: 40 strength
14.40
3.60%
13.75
0
+10 damage
Rapid aim
+15% ranged critical chance
+10 attack
Purchased from Glassric the Weaponsmith in the City of Amaranthine
Dragon Age II

[

]
Name
Damage

Critical chance
Armor penetration
Strength modifier
Runes
Enhancements
Notes
Bianca
Red Cedar
Requires: Level 1 (Inquisition)
5 + 5.38 * LVL physical damage (Dragon Age II)
45 (Inquisition)
1 to start (Dragon Age II)
4 fully upgraded (Dragon Age II)
Empty Rune (Inquisition)
see Bianca upgrades
The only weapon Varric Tethras can use in Dragon Age II

Restriction: Varric Tethras (Dragon Age II)
Varric Only (Inquisition)