For the village located in this region, see Village of Crestwood.
For the keep located in this region, see Caer Bronach.
Crestwood is a grasslands region located north of Lake Calenhad in Ferelden.
Background
[
]
Crestwood's namesake, taken from Ser Venar Crestwood, was awarded to the region by King Brandel after Ser Venar, the first captain of Caer Bronach, guarded the keep against Orlesian forces during the Second Orlesian Invasion of Ferelden in 8:26 Blessed.[1]
Three Trout Pond hides a sinkhole hundreds of yards deep. Darkspawn emerged from this and other caves to attack Crestwood during the Blight. The flood that wiped out Old Crestwood drowned the blighted ones, and the excess water created the pond we see today.[2]
The village was hit hard by the darkspawn during the Fifth Blight. Many refugees tried to find shelter in Crestwood, however some of them were carrying the blight disease and were infecting others. The diseased were moved to the caves beneath the town. On the 8th of Bloomingtide 9:30 the invading darkspawn finally arrived and surrounded most of the valley the village is in. Mayor Gregory Dedrick decided to open the dam and flood the village, killing the darkspawn, and any remaining villagers inside, to save the lives of everyone else.

—Excerpt from the quest journal
Involvement
[
]
Places
[
]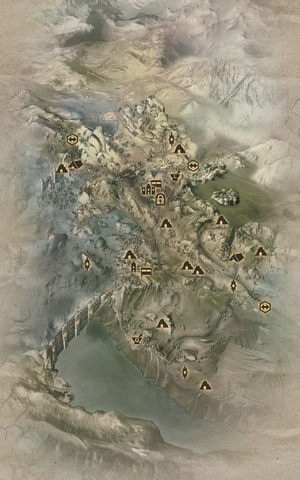 The Black Fens
Dead Man's Pass
East Side Hills
Forester Homestead
Glenmorgan Mine
Hilltop Farm
Linden Farm
New Crestwood Docks
North Gate
Old Market Road
Old Whitter's Farm
Rocky Slope
South Road
The Flats (after the lake has been drained)
Three Trout Pond
Additional places
[
]
North Gate Camp
Three Trout Farm Camp
Characters
[
]
Alistair (conditional)
Bombast[3] (conditional)
Fat Masters[3] (conditional)
Mayor Gregory Dedrick
Jean-Marc Stroud (conditional)
Lady Sear[3] (conditional)
Loghain Mac Tir (conditional)
Sister Vaughn
Old Crestwood Wraith[4]
Quests
[
]
Rifts
[
]
Requisitions
[
]
War table operations
[
]
Creatures
[
]
Hostile creatures
[
]
Enemies
[
]
Highwaymen
Red Templars

Herbs
[
]
Leather
[
]
Metal
[
]
Notable items
[
]
Situated atop a stone foundation, just outside of a damaged house, located furthest west along the lake-shore of Old Crestwood.
On the shoreline next to a destroyed home located west of Caer Bronach, near the Caer Bronach rift, and directly south of the Fisherman's Hut landmark.
Near the northernmost wall of the chamber situated across the hall from the rift in the lowest level of the Flooded Caves.
In the southernmost cave located in the Black Fens region (southeast of the Northern Hunter's ruins).
In the cave located in Dead Man's Pass, opposite the Astrarium cave.
Lightning Rune Schematic - in the southernmost cave located in the Black Fens region (southeast of the Northern Hunter's ruins).
Loot
[
]
Codex entries
[
]
Note texts
[
]
Bugs
[
]
Venatori / Red Templars may not spawn at their camp in Glenmorgan Mine upon arriving there for the first time; however, the Inquisitor will still say: "Look, Venatori / Red Templars!"
Gallery
[
]
References
[
]