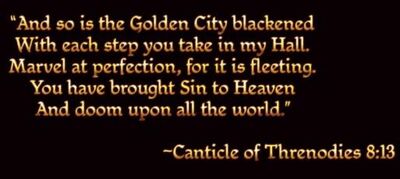 A number of Chant of Light verses can be encountered whilst exploring Thedas. However, the full chant can take weeks to recite, so what can be gathered is incomplete. This article is intended to collect all the known verses.
-Andraste 1:1-1:14[1]
-Andraste 7:12[2]
-Andraste 7:19[3]
-Andraste 14:11[4]
-Apotheosis 1:1-1:14[5]
-Apotheosis 2:1-2:18[6]
-Benedictions 4:10[7]
-Benedictions 4:11[8]
-Erudition 2:1[9]
-Exaltations 1:1-1:14[10]
-Shartan 9:1-9:28, Dissonant Verse[12]
The armies clash on Valerian Fields
-Shartan 10:1-10:7, Dissonant Verse[13]
-Silence 1:1-1:17, Dissonant Verse[14]
-Silence 2:1-2:9, Dissonant Verse[15]
-Silence 3:1-3:19, Dissonant Verse[16]
- Threnodies 1:4[17]
-Threnodies 1:8[18]
-Threnodies 6:1-6:23[26]
-Threnodies 7:11[28]
The numbering of Threnodies 8 is hard to understand, as there are various sources of quotes from its verses that don't seem to quite form a coherent picture. See references for more information[29].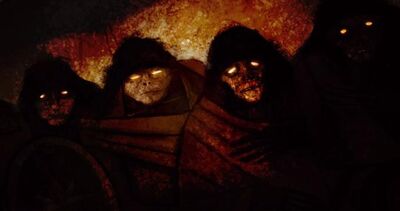 -Threnodies 8.13[31]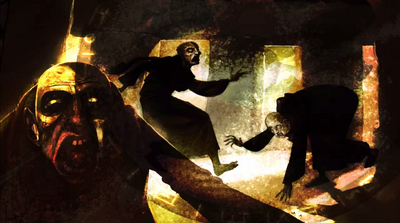 -Threnodies 8.7[32]
In the absence of light, shadows thrive
-Threnodies 8:21[33]
-Threnodies 8:27[34]
And down they fled into darkness and despair.
-Threnodies 8:28[35]
-Threnodies 8:21-27 [36]
-Threnodies 12:1[37]
-Threnodies 12:5[38]
Canticle of Transfigurations
[
edit
|
edit source
]
-Transfigurations 1:1-1:5[39]
-Transfigurations 10:1[42][43][44]
-Transfigurations 12:1-12:6[45]
-Transfigurations 18:10[46]
Prayers for the despairing
-Trials 1:1-1:16[47]
-Trials 5:1[48]
-Trials 15:1[49]
-Victoria 1:3[50]
This section contains verses from the Chant of Light for which the Canticle is not known.
The majority of verses of the Chant of Light are written by Mary Kirby.[51]
If Leliana is made Divine, she restores the Canticle of Shartan to the Chant.
Community content is available under
CC-BY-SA
unless otherwise noted.