The Carta is a powerful dwarven crime syndicate headquartered in Dust Town in Orzammar, originally headed by Beraht, who was succeeded by his lieutenants Jarvia, and then finally Karshol. It is composed of casteless who are forced to resort to crime to survive, and in recent years have become a threat to even the Noble Houses of Orzammar. They specialize in smuggling lyrium, weapons, slaves and command a formidable racket in Dust Town, patronizing prostitutes, beggars, and businesses.
Involvement
Dragon Age: Origins
If playing with a Dwarf Commoner Origin, The Warden will be a member of the Carta, forced into working for Beraht. Their sister Rica also works for the Carta as a prostitute. The Warden must carry out a series of tasks for Beraht, but is eventually be forced to impersonate a warrior in a Proving. The Warden is imprisoned, but escapes and kills Beraht, leader of the Carta, leading to Beraht's lieutenant and rumoured lover Jarvia taking his place.
The Carta are once again encountered in the quest,
A Paragon of Her Kind
, during
Entering Jarvia's Hideout
. The Warden is asked by either
Prince Bhelen
or
Lord Harrowmont
to infiltrate the Carta's hidden base in
Dust Town
and wipe them out. Jarvia is killed by the Warden at the end of the quest, and the Carta's power in
Orzammar
is as good as shattered.
Dragon Age II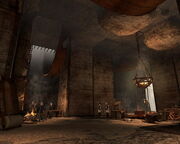 After the crippling crackdown by the Warden, the Carta's power was greatly diminished and turned its attention "topside" to regain some of its prestige through intermediaries of the surface caste. Now under the command of Beraht's left-hand, Karshol, the Carta can be confronted several times in the Docks of Kirkwall.
If a save from Origins is imported where Bhelen was crowned king of Orzammar, then they are involved in the quest Last of His Line, where the last descendant of House Harrowmont, a house traditionally opposed to extending any rights to the casteless, is trying to escape assassination by the Carta.
The Carta are also a primary antagonist in the
Dragon Age II
DLC
,
Legacy
, where they seek to bring "
the blood of
Hawke
" to an
ancient evil
in a
Grey Warden
prison in the
Vimmark Mountains
.