'Cairn' is a Templar in Dragon Age: Redemption seeking out the rogue Saarebas along with Tallis.
Background
Nothing is known as of yet.
Involvement
Cairn meets Tallis by chance when the two cross blades trying to apprehend the same individual who was involved in the freeing of the rogue Saarebas. It is implied that the two join forces in later episodes.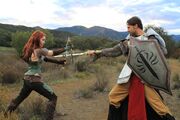 Trivia