For the Fade version of Blackmarsh, see Blackmarsh Undying.
The Blackmarsh is a deserted marshland along the northeastern shores of Amaranthine.
"The Blackmarsh is a gloomy, desolate place. All who travel the one lonely path between the trees are beset by an oppressive feeling of dread. Nothing stirs in the marsh, for even birds and beasts sense the foulness in the air and dare not stray too close."
"The Blackmarsh was not always this way. Once, many years ago, there was a village, bustling with people. Boats and ships arrived daily at the small port. And then, one day, it all went away. The few brave souls who ventured into the marsh to discover the villagers' fate found burned ruins and no sign of life. As the years passed, sightings of strange creatures and eerie lights in the marsh fueled belief that the Blackmarsh was haunted, and that all who valued their lives would do well to stay away.[1]"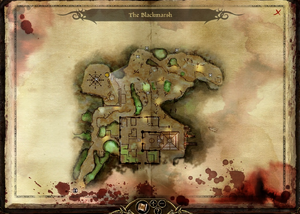 Kristoff's Locket, source: Rocks
Ornate Silver Bowl, source: Debris
Toy Horse, near Town Records
Karsten's Hidden Cache - Diamond, Ruby, Sapphire, and 1
Queen of the Blackmarsh - Flawless Diamond, 5-20
Community content is available under
CC-BY-SA
unless otherwise noted.