For more information about the crossbow itself, see Bianca.
This page lists Bianca Upgrades, Varric Tethras' signature crossbow weapon in Dragon Age: Inquisition.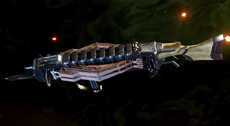 Varric's crossbow upgrades differently in each Dragon Age title.
Dragon Age II
Edit
Bianca is the only weapon Varric can use in-game and it cannot be unequipped. However, Bianca automatically levels as Varric does. So, the higher level Varric is, the stronger this crossbow becomes.
Bianca does not change color and texture when Elemental Weapons is activated. However, the spell still works on it.
During Haunted in Act 3, Bianca can be upgraded to four rune slots if you allow Varric to keep the shard from the lyrium idol.
Dragon Age: Inquisition
Edit
Bianca can be physically and visually upgraded like most weapons. Unlike in Dragon Age II, the weapon does not improve with level, but can be upgraded more than any other weapon with three types of unique upgrade components, they include : arms, grips, and aiming modules. Runes can also be added to Bianca, however they are not specific to Bianca and are therefore dealt with on the Runes page.
Bianca can be unequipped and replaced with two daggers. Despite this, however, Varric is still the only one the weapon can be equipped to and it cannot be sold to any merchant.
Non-Crafted Upgrades
Edit
Aiming Modules
Edit
Crafted Upgrades
Edit
There are a number of schematics that can be found throughout the game to upgrade Bianca. See crafting for general crafting information.
Aiming Module Schematics
Edit
Arm Schematics
Edit
Grip Schematics
Edit
Community content is available under
CC-BY-SA
unless otherwise noted.