Armor tinting in Dragon Age: Inquisition allows you to recolor the armor worn by the Inquisitor and their companions. A special crafting table is required, which can be found in the Undercroft at Skyhold.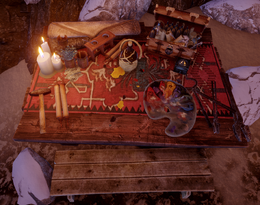 Tinting slots
Edit
There are four slots used to tint the different parts of a piece of armor:
Metal:
tints components made of metal; such as breastplates, pauldrons, or buckles/decorations.
Leather:
tints components made of leather; such as gloves, boots, and belts.
Cloth 1:
tints the primary cloth components of armor; such as robes, undersuits, or straps.
Cloth 2:
tints the secondary cloth components of armor; such as scarves, trim, or contrasting details. These details may appear underneath or "inside" coats, hoods, etc.
It costs a single piece of a material per slot to tint armor, but not all slots need to be filled. Armor can be re-tinted indefinitely. Not all types of armor will have the full four components and not all visual components of armor can be tinted, even if all the slots are filled.
Tint colors
Edit
Each of the Crafting materials will tint an armor component a different color, though Mastercraft materials cannot be used. (However, during regular armor crafting, Masterwork components will override the color of the material used in crafting.) Some colors may appear different due to the base "texture" of the component being tinted or the way the light hits that element.
Warden Battlemage Armor, showing various tints; note how the central chest panel, leather pouches, and knee pads are not recolored by tinting.
Community content is available under
CC-BY-SA
unless otherwise noted.