For the armor in other games, see Armor (Dragon Age II) and Armor (Inquisition).
Armor in Dragon Age: Origins is protective covering used to prevent damage from being inflicted to the wearer. Armor mitigates physical damage; it does not make you harder to hit. Shields are an exception; they make you harder to hit and offer additional protection against missile hits. Armor does not degrade and can be crafted from a variety of mystical and mundane materials.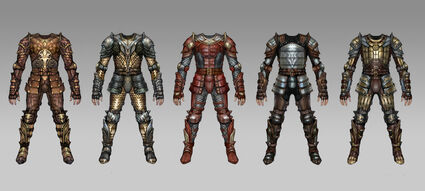 Basics
[
]
Armor comes in the form of body armor, boots, gloves, helmets, and shields. Having the matching set of gloves, boots, and armor of a given set typically provides additional bonuses; as an entire set that was designed to be used together is more effective than mix and match.
Although technically not armor, some clothing and cloth helmets nonetheless offer limited protection, as well as other stat bonuses, meant especially for mages. Collars and Kaddis are the upgrade slots for Dog and have armor-like properties. The golem Shale can use Large Crystals instead of armor.
To use armor, a character must meet a minimum strength requirement. Armor is not limited by race or class but some special armors are only usable by specific specializations. Arcane Warriors using Combat Magic are governed by their magic attribute instead of strength.
Note that the armor ratings listed here are for the base versions. Some armor has special bonus properties (shown as "Stats" in the summaries). For example, the Gloves of Diligence has a base armor rating of 2.10, but a bonus stat of +4 armor, for a total of 6.10 armor.
Types
[
]
There are four types of body armor: massive, heavy, medium and light. Each type of body armor has several types of materials that they can be made of. As the Player moves through the game, higher tiers of armor will become available. Tiers 1–7 are available in Origins, while tiers 8–9 are only available in Awakening. They are listed here in order of increasing defense.
Light armor:
Rough (Tier 1)
Cured Hide (Tier 2)
Leather (Tier 3)
Hardened (Tier 4)
Reinforced (Tier 5)
Inscribed (Tier 6)
Drakeskin (Tier 7)
Dragonwing (Tier 8)
High Dragon Hide (Tier 9)
Medium, heavy, and massive armor:
Iron (Tier 1)
Grey Iron (Tier 2)
Steel (Tier 3)
Veridium (Tier 4)
Red Steel (Tier 5)
Silverite (Tier 6)
Dragonbone (Tier 7)
White Steel (Tier 8)
Volcanic Aurum (Tier 9)
Light
[
]
Tier
Base Armor
Fatigue
Requisite
Rough (Tier 1)
Armor
3.00
2.00 %
10 strength
Helmet
0.75
0.00 %
10 strength
Gloves
0.50
1.00 %
10 strength
Boots
0.75
0.50 %
10 strength
Total
5.00
3.50 %
10 strength
Cured (Tier 2)
Armor
3.99
2.05 %
11 strength
Helmet
1.00
0.00 %
11 strength
Gloves
0.67
1.03 %
11 strength
Boots
1.00
0.51 %
11 strength
Total
6.65
3.59 %
11 strength
Leather (Tier 3)
Armor
4.98
2.10 %
12 strength
Helmet
1.25
0.00 %
12 strength
Gloves
0.83
1.05 %
12 strength
Boots
1.25
0.53 %
12 strength
Total
8.30
3.68 %
12 strength
Hardened (Tier 4)
Armor
6.00
2.15 %
14 strength
Helmet
1.50
0.00 %
14 strength
Gloves
1.00
1.08 %
14 strength
Boots
1.50
0.54 %
14 strength
Total
10.00
3.76 %
14 strength
Reinforced (Tier 5)
Armor
6.99
2.20 %
17 strength
Helmet
1.75
0.00 %
17 strength
Gloves
1.17
1.10 %
17 strength
Boots
1.75
0.55 %
17 strength
Total
11.65
3.85 %
17 strength
Inscribed (Tier 6)
Armor
7.98
2.25 %
18 strength
Helmet
2.00
0.00 %
18 strength
Gloves
1.33
1.13 %
18 strength
Boots
2.00
0.56 %
18 strength
Total
13.30
3.94 %
18 strength
Drakeskin (Tier 7)
Armor
9.00
2.30 %
20 strength
Helmet
2.25
0.00 %
20 strength
Gloves
1.50
1.15 %
20 strength
Boots
2.25
0.58 %
20 strength
Total
15.00
4.03 %
20 strength
Dragon Wing (Tier 8)
Armor
9.99
2.50 %
22 strength
Helmet
2.50
0.00 %
22 strength
Gloves
1.67
1.25 %
22 strength
Boots
2.50
0.63 %
22 strength
Total
16.65
4.38 %
22 strength
High Dragon Hide (Tier 9)
Armor
10.98
2.60 %
24 strength
Helmet
2.75
0.00 %
24 strength
Gloves
1.83
1.30 %
24 strength
Boots
2.75
0.65 %
24 strength
Total
18.30
4.55 %
24 strength
Medium
[
]
Tier
Base Armor
Fatigue
Requisite
Iron (Tier 1)
Armor
4.25
7.00 %
14 strength
Helmet
1.00
1.50 %
14 strength
Gloves
0.75
1.25 %
14 strength
Boots
1.00
1.00 %
14 strength
Total
7.00
10.75 %
14 strength
Grey Iron (Tier 2)
Armor
5.10
7.35 %
16 strength
Helmet
1.20
1.58 %
16 strength
Gloves
0.90
1.31 %
16 strength
Boots
1.20
1.05 %
16 strength
Total
8.40
11.29 %
16 strength
Steel (Tier 3)
Armor
5.95
7.70 %
18 strength
Helmet
1.40
1.65 %
18 strength
Gloves
1.05
1.38 %
18 strength
Boots
1.40
1.10 %
18 strength
Total
9.80
11.83 %
18 strength
Veridium (Tier 4)
Armor
6.80
8.05 %
22 strength
Helmet
1.60
1.73 %
22 strength
Gloves
1.20
1.44 %
22 strength
Boots
1.60
1.15 %
22 strength
Total
11.20
12.36 %
22 strength
Red Steel (Tier 5)
Armor
7.65
8.40 %
28 strength
Helmet
1.80
1.80 %
28 strength
Gloves
1.35
1.50 %
28 strength
Boots
1.80
1.20 %
28 strength
Total
12.60
12.90 %
28 strength
Silverite (Tier 6)
Armor
8.93
8.75 %
30 strength
Helmet
2.10
1.88 %
30 strength
Gloves
1.58
1.56 %
30 strength
Boots
2.10
1.25 %
30 strength
Total
14.70
13.44 %
30 strength
Dragonbone (Tier 7)
Armor
10.63
9.10 %
34 strength
Helmet
2.50
1.95 %
34 strength
Gloves
1.88
1.63 %
34 strength
Boots
2.50
1.30 %
34 strength
Total
17.50
13.98 %
34 strength
White Steel (Tier 8)
Armor
11.48
10.50 %
38 strength
Helmet
2.70
2.25 %
38 strength
Gloves
2.03
1.88 %
38 strength
Boots
2.70
1.50 %
38 strength
Total
18.90
16.13 %
38 strength
Volcanic Aurum (Tier 9)
Armor
12.75
12.25 %
44 strength
Helmet
3.00
2.63 %
44 strength
Gloves
2.25
2.19 %
44 strength
Boots
3.00
1.75 %
44 strength
Total
21.00
18.81 %
44 strength
Heavy
[
]
Tier
Base Armor
Fatigue
Requisite
Iron (Tier 1)
Armor
6.25
14.00 %
18 strength
Helmet
1.25
2.25 %
18 strength
Gloves
1.00
1.75 %
18 strength
Boots
1.25
2.25 %
18 strength
Total
9.25
20.25 %
18 strength
Grey Iron (Tier 2)
Armor
7.50
14.70 %
20 strength
Helmet
1.50
2.36 %
20 strength
Gloves
1.20
1.84 %
20 strength
Boots
1.50
2.36 %
20 strength
Total
11.10
21.26 %
20 strength
Steel (Tier 3)
Armor
8.75
15.40 %
22 strength
Helmet
1.75
2.48 %
22 strength
Gloves
1.40
1.93 %
22 strength
Boots
1.75
2.48 %
22 strength
Total
12.95
22.28 %
22 strength
Veridium (Tier 4)
Armor
10.00
16.10 %
26 strength
Helmet
2.00
2.59 %
26 strength
Gloves
1.60
2.01 %
26 strength
Boots
2.00
2.59 %
26 strength
Total
14.80
23.29 %
26 strength
Red Steel (Tier 5)
Armor
11.25
16.80 %
32 strength
Helmet
2.25
2.70 %
32 strength
Gloves
1.80
2.10 %
32 strength
Boots
2.25
2.70 %
32 strength
Total
16.65
24.30 %
32 strength
Silverite (Tier 6)
Armor
13.13
17.50 %
34 strength
Helmet
2.63
2.81 %
34 strength
Gloves
2.10
2.19 %
34 strength
Boots
2.63
2.81 %
34 strength
Total
19.43
25.31 %
34 strength
Dragonbone (Tier 7)
Armor
15.63
18.20 %
38 strength
Helmet
3.13
2.93 %
38 strength
Gloves
2.50
3.90 %
38 strength
Boots
3.13
2.93 %
38 strength
Total
23.13
26.33 %
38 strength
White Steel (Tier 8)
Armor
16.88
21.00 %
42 strength
Helmet
3.38
3.38 %
42 strength
Gloves
2.70
4.50 %
42 strength
Boots
3.38
3.38 %
42 strength
Total
24.98
30.38 %
42 strength
Volcanic Aurum (Tier 9)
Armor
18.75
24.50 %
48 strength
Helmet
3.75
3.94 %
48 strength
Gloves
3.00
5.25 %
48 strength
Boots
3.75
3.94 %
48 strength
Total
27.75
35.44 %
48 strength
Massive
[
]
Tier
Base Armor
Fatigue
Requisite
Iron (Tier 1)
Armor
8.75
25.00 %
25 strength
Helmet
1.50
3.00 %
22 strength
Gloves
1.25
3.00 %
22 strength
Boots
1.50
3.00 %
22 strength
Total
13.00
30.00 %
22 strength
Grey Iron (Tier 2)
Armor
10.50
22.05 %
24 strength
Helmet
1.80
3.15 %
24 strength
Gloves
1.50
3.15 %
24 strength
Boots
1.80
3.15 %
24 strength
Total
15.60
31.50 %
24 strength
Steel (Tier 3)
Armor
12.25
23.10 %
26 strength
Helmet
2.10
3.30 %
26 strength
Gloves
1.75
3.30 %
26 strength
Boots
2.10
3.30 %
26 strength
Total
18.20
33.00 %
26 strength
Veridium (Tier 4)
Armor
14.00
24.15 %
30 strength
Helmet
2.40
3.45 %
30 strength
Gloves
2.00
3.45 %
30 strength
Boots
2.40
3.45 %
30 strength
Total
20.80
34.50 %
30 strength
Red Steel (Tier 5)
Armor
15.75
25.20 %
36 strength
Helmet
2.70
3.60 %
36 strength
Gloves
2.25
3.60 %
36 strength
Boots
2.70
3.60 %
36 strength
Total
23.40
36.00 %
36 strength
Silverite (Tier 6)
Armor
18.38
26.25 %
38 strength
Helmet
3.15
3.75 %
38 strength
Gloves
2.63
3.75 %
38 strength
Boots
3.15
3.75 %
38 strength
Total
27.30
37.50 %
38 strength
Dragonbone (Tier 7)
Armor
21.88
27.30 %
42 strength
Helmet
3.75
3.90 %
42 strength
Gloves
3.13
3.90 %
42 strength
Boots
3.75
3.90 %
42 strength
Total
32.50
39.00 %
42 strength
White Steel (Tier 8)
Armor
23.63
31.50 %
46 strength
Helmet
4.05
4.50 %
46 strength
Gloves
3.38
4.50 %
46 strength
Boots
4.05
4.50 %
46 strength
Total
35.10
45.00 %
46 strength
Volcanic Aurum (Tier 9)
Armor
26.25
36.75 %
52 strength
Helmet
4.50
5.25 %
52 strength
Gloves
3.75
5.25 %
52 strength
Boots
4.50
5.25 %
52 strength
Total
39.00
52.50 %
52 strength
Armor sets
[
]
Main article: Item sets (Origins)