"The people fear what we can do, but to use that fear to bludgeon us into submission is wrong! And they do it with our blessing!"

Anders is a human mage determined to escape the Circle of Magi and the templars, with whom he has developed a rather antagonistic relationship. Nothing they have done to him has dampened his desire for personal freedom. He has a deep affinity for the downtrodden and underprivileged, and for cats. He is a companion in Dragon Age II and a potential one in Dragon Age: Origins - Awakening. In the former he is also a romance option for Hawke.
Background
Anders is a spirit healer. His real name is unknown, and his nickname refers to the fact that his family is from the Anderfels.[1] When he started to exhibit magical abilities and set a barn on fire, his father grew afraid of him. At the age of twelve he was handcuffed and taken by the templars to the Ferelden Circle Tower.[2] The only personal possession he was allowed to keep was a pillow hand-embroidered by his mother. Anders despised the Circle and compared it to a prison. He made at least seven and at most dozens[3] of attempts to escape the tower, each time being returned and punished by the templars. Yet First Enchanter Irving believed that Anders, however reckless, posed no true threat.[3] Anders' next-to-last escape earned him a year of solitary confinement, in which the only company he had most days was the tower's mouser named Mr. Wiggums. According to Anders, the cat became possessed by a rage demon and took out three templars. The final time Anders managed to run away was prior[4] to Uldred's uprising.
Involvement
Dragon Age: Origins - Awakening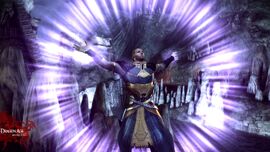 The Warden-Commander first encounters Anders in the Vigil's Keep during the assault on it. He is surrounded by dead darkspawn and templars, but claims he didn't kill the latter. Prior to the darkspawn attack, the templars recaptured him after his latest escape from the Circle and brought him to the Keep. If the main character is an Amell (imported DAO character of the Magi Origin) Anders mentions remembering him/her from the Ferelden Circle Tower. If, in the later conversation, the Warden-Commander asks him to join the group, Anders does so. Alternatively, if the Warden-Commander tells him to flee, Anders is later found on the rooftop of the Vigil's Keep spying on the Withered and Seneschal Varel. He warns the Warden-Commander about the danger ahead and confesses that he came back because he wanted to help and kill the darkspawn. He automatically joins the party.
When the templar Rylock arrives with Anora/Alistair, she wants to arrest Anders and claims that he killed the templars who were guarding him. If the Warden-Commander returns Anders to the templars' custody, he permanently leaves the party. Alternatively, the Warden-Commander can invoke the Right of Conscription. Rylock's objection to conscription will be overruled. Anders undertakes the Joining ritual and drops unconscious. He survives and becomes a Grey Warden.
During the Oaths of Fealty quest, if Ser Tamra isn't persuaded to reveal the conspiracy against the Warden-Commander, A Brewing Conspiracy can be initiated by Anders instead who will say that he heard ominous whispers from some nobles.
When the party visits the City of Amaranthine, the Warden-Commander encounters an elven woman named Namaya whom Anders appears to know. Anders explains that she is his friend and the reason he came to the city before being caught. During the Blight the templars moved their store of phylacteries to Amaranthine and Namaya learned that Anders' phylactery is among them. Anders asks the Warden-Commander to help him destroy it. Should the Warden-Commander refuse, the quest is completed.
Otherwise, the Warden-Commander follows Anders to the abandoned warehouse only to find Rylock waiting there with a group of templars. Rylock admits that the phylacteries were in the warehouse in the past, but none are there now. She demands that Anders is handed to the templars. If the Warden-Commander allows them to take him, Anders permanently leaves the party. If the Warden-Commander stands by him, the templars turn hostile and have to be killed. Anders subsequently thanks the Warden-Commander for help.
The Warden-Commander can give the kitten found in the Vigil's Keep to Anders. Anders names the kitten Ser Pounce-a-lot and intends to keep him for a while.
If Anders is present when Wynne informs the Warden-Commander that the Libertarians are going to propose to pull entirely from the Chantry at the forthcoming convening of the College of the Magi, he calls it a "recipe for disaster."
Along with the other companions of the Warden-Commander, Anders can meet the spirit of Justice. In their conversations, Anders wonders about the relation between spirits and demons. Justice in his turn wonders why Anders does nothing to help the other mages.
Anders is the only companion who prefers to stay in the Vigil's Keep and disapproves of being taken to Amaranthine when the Warden-Commander receives news of the attack on the city. If in the party, both Anders and Justice approve of saving Amaranthine instead of going back to the Keep and advocate for killing the Architect.
Epilogue
If the Warden-Commander refused to help Anders, he is captured again when he resigns from the Wardens. With his phylactery secure, he is unable to evade the templars. After two subsequent escape attempts, he vanishes for a third and final time.
If left to defend the Keep without enough upgrades to it, he is found dead with an arrow through his neck with hundreds of darkspawn dead in a circle around him; none were touched with a blade, but all were felled by magic.
If left to defend the Keep, Anders is hailed a hero by the few survivors of Vigil's Keep by using his magic to hold off hundreds of darkspawn. He gets invited by the men to engage in a drinking contest. He loses.
Anders remains with the Grey Wardens to train the Order's next generation of mages. When he is called by the Circle of Magi to deliver a lecture on the nature of the Architect, much to the templars' dismay, he tells the Commander of the Grey that his time with the Wardens is over.
Dragon Age II
Events after Awakening
Despite the various potential outcomes of Awakening, Anders becomes a Grey Warden, meets Justice and survives. If Anders is left to defend the Vigil's Keep that was not fully upgraded, he doesn't die but rather escapes using a badly burned body in robes as a decoy. Anders tells this to Nathaniel if they meet in the Deep Roads seven years later.
The Wardens force Anders to give Ser Pounce-a-lot to a friend in Amaranthine, claiming that he made Anders too soft. Anders misses the cat and keeps mentioning it.
A former templar, Rolan, infiltrates the Grey Warden ranks to keep a close watch on Anders. He accuses Anders of becoming an abomination and brings the templars down on him, stating that the Wardens agreed with the decision. Anders kills Rolan, the templars and the Wardens and flees.[2]
Act 1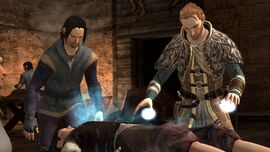 Anders has left the Wardens to live in Kirkwall, where he uses his healing abilities to aid Ferelden refugees. He can be found in Anders's Clinic in Darktown. Hawke is led to Anders by Varric and Lirene in the search for an entrance into the Deep Roads. Anders offers to trade Grey Warden maps showing such entrances for Hawke's assistance to his friend Karl who seeks to escape the Kirkwall Circle.
Upon arriving at the Chantry at night, Anders and Hawke discover that Karl has been made Tranquil and has lured Anders into a trap set by the templars. Enraged, Anders reveals himself to be possessed by Justice and kills the templars with Hawke's aid. Karl abruptly regains all his emotions, saying that Anders "brought a piece of the Fade into this world". He describes being Tranquil as a horrific experience and begs Anders to kill him before the effect wears off. Once Karl becomes Tranquil again, Anders stabs him before the party leaves the Chantry.
When Hawke visits Anders at his clinic, he explains that prior to the clash with Rolan[2] he agreed to be Justice's host. He believed that together they could bring justice to every mage ever forced into the Circle. However, Anders' anger warped Justice into a force of Vengeance: Anders must now struggle to maintain control. Anders gives Hawke the maps and joins as a companion. The next time Hawke talks to Anders at his clinic, he apologizes for putting his problems on Hawke. If Hawke replies with a diplomatic tone, Anders flirts with Hawke. Some replies lead to Vengeance manifesting again.
If Hawke takes both their sibling and Anders into the Deep Roads, Anders can prevent the tainted sibling from dying. Anders reveals that he stole the maps from a Grey Warden who came to Kirkwall: Anders wanted to know if the Warden was looking for him. In reality, the Wardens were planning their own expedition and Anders knows their location. Should Hawke choose to look for the Wardens, they will meet their leader Stroud, who is reluctant to help. Anders persuades him to allow the sibling undertake the Joining.
Act 2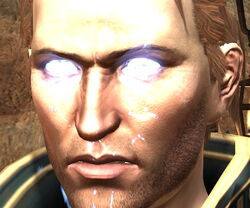 After the death of Karl Anders has joined the mage underground and is helping mages escape the Kirkwall Circle. Hawke keeps finding Anders' manifestos all over the High Town estate. Anders is still healing the refugees, but is getting few cases. When Hawke comes to visit Anders, he admits that he is losing control over Justice/Vengeance.
Later, Anders asks Hawke to help him investigate the plot of the templar Ser Alrik. Anders believes that he is working on a deliberate plan to turn all mages in the Free Marches Tranquil. If Hawke refuses, the quest is canceled. Otherwise, Hawke follows Anders as he descends into the tunnels leading to the Gallows that were built by lyrium smugglers. There, they encounter Ser Alrik with a group of other templars threatening to make an escaped mage girl Ella Tranquil. Angered, Justice takes control of Anders' body and attacks the templars. Once they are dead, Ella calls Justice "a demon", which further angers him.
If the amount of friendship/rivalry with Anders is not high enough, Hawke is helpless to act and Vengeance kills the girl. Alternatively, a special dialogue option becomes available and Hawke can persuade Anders not to harm her. As Anders regains control, he flees, terrified. Searching the bodies of dead templars, Hawke gets evidence that Ser Alrik's plan existed, but was rejected by both Meredith and the Divine.
Hawke finds Anders in his clinic trashing things. He is deeply upset and convinced that he and Justice have turned into a monster. If Hawke confronts Anders and tells him to go away, he permanently leaves the party. He still shows up in the end of Act 3. If Hawke comforts him or confronts him but asks him to stay, he wonders whether the "Tranquil Solution" was another of his delusions. Presented with Ser Alrik's papers, he is relieved and willing to speak to the Grand Cleric who "might be more reasonable" than he thought.
Hawke can take Anders into the Fade so as to help Feynriel face his Night Terrors. There, Justice takes control of Anders again. A sloth demon Torpor offers a deal: should Hawke help the demon possess Feynriel, he/she will receive power, knowledge, or magic in return. If the offer is accepted, Justice turns on Hawke and the Champion defeats him. If it is rejected, Anders can't be seduced by the remaining two demons. If Anders was killed in the Fade, he feels angry and betrayed. However, if Hawke killed Torpor in the end instead of honoring the deal and uses the special dialogue option to tell Anders about it, he/she gains Anders' friendship rather than rivalry.
If Hawke takes Anders to Bartrand's Estate while assisting Varric with his family matter, Anders can temporarily cure Bartrand. If Anders is not in the party, Bartrand can't be healed.
The final conversation with Anders in Act 2 changes depending on the friendship or rivalry score:
If a rival, he is writing a manifesto to convince Hawke to side with the mages. If prompted, he reads it aloud.
If a friend, Anders is laying out milk for the cats. He thanks Hawke for Hawke's help and support.
Act 3
In the beginning of the Act, Anders tells Hawke that in the past three years Meredith has destroyed the mage underground, and Anders is now preparing for the worst.
Later, Anders claims that he seeks to be separated from Justice. He asks for Hawke's help in obtaining ingredients for a Tevinter potion that will let them both free without killing either. If Hawke refuses, the quest is completed. Otherwise Hawke assists Anders in collecting "sela petrae" and drakestone.
After that, Anders asks Hawke to distract Grand Cleric Elthina for him to get inside the Chantry unseen. He confesses that he lied and there is no potion but refuses to reveal his plan. Anders insists that Hawke must help him if Hawke cares for the freedom of mages and for him personally. Hawke can refuse at this point, to which Anders angrily retorts that he has always been on his own, but only that he had forgotten for a time. Should Hawke agree, Anders promises that whatever happens, it's on his head.
If Hawke has decided not to help Anders from the beginning or not to distract Elthina, Hawke can warn Elthina via a special dialogue option. Otherwise, Hawke keeps Elthina busy discussing the mages and the templars until Anders shows up claiming that he was "looking for Hawke everywhere".
Hawke can subsequently talk to Anders only if all his requests were fulfilled:
If Anders is not a 100% friend, Anders tells that the spirit inside him is exultant. He refuses to explain what happened in the Chantry, but says that the war will happen: the clock is ticking down and it will be midnight soon.
If Anders is a 100% rival, Hawke tries to convince him that whatever he planned, it is not too late to stop it. Anders agrees that there is still time, then Justice takes over and demands that Hawke leave as "Anders has no need of [him/her]". As Anders regains control, he does not remember what he was saying and admits that he is having more and more blank spots in his memory. He tells Hawke that he tried his best to control Vengeance and asks Hawke not to blame him for failing.
If Anders is a 100% friend, he hints that he is going to die for something that matters more than his life and thanks Hawke for standing by him when he gave Hawke every reason to turn away. He says that he hoped to find a better way, but states that Justice and Vengeance are too intertwined and he can't tell one from the other. Anders asks Hawke never to blame themselves for what will happen.
After any of these conversations the colour of Anders' coat changes to black.
The Last Straw
In the end, regardless of Hawke's previous actions, Anders blows up the Chantry, killing Grand Cleric Elthina and everybody else inside. Both Meredith and Orsino leave Anders for the Champion to deal with.
Anders sits on a crate and talks facing away while he awaits Hawke's judgement:
If Anders is Hawke's rival, he says that Vengeance took him over and expresses deep regret for his actions. He does not trust himself to control Vengeance any longer and begs Hawke to kill him "before there is nothing left of [him]". Hawke can tell Anders that they forgive him if the amount of rivalry is high enough.
If Anders is Hawke's friend, he insists that the decision was his own as he and Justice are one now. He tells Hawke that he wanted to make Thedas see the injustice of the Circle and thus to change the world. Anders still wishes to be killed, seeing it as bringing justice to those who were sacrificed for his cause. If the amount of friendship is high enough, Hawke can tell Anders that they might have understood if he'd only told them.
Hawke has the following options:
Whoever the Champion has chosen to support, Hawke can kill Anders by stabbing him in the back.
If Anders is spared, Sebastian leaves the party, vowing to return to Starkhaven and build an army to attack Kirkwall and avenge Grand Cleric Elthina.

If Hawke sides with the templars then allows Anders to walk away, he later confronts Hawke inside the Gallows and all dialogue options lead to Hawke having to kill him in combat.
Anders maintains a firm conviction in his cause and refuses to turn against the mages, unless Hawke is his 100% rival and has previously spoken to him. If Hawke persuades him to atone for what he has done by helping the templars, he is crushed and hints at wishing to take his own life after the final battle if he is not killed first.
If Hawke supports the mages then tells Anders to leave, he is later encountered again inside the Gallows, wanting to be a part of the battle. If his aid is accepted, he rejoins the party. If it is rejected, he wishes Hawke victory and leaves permanently.
If Hawke asks Anders to defend the mages, he is eager to fight the templars, but admits that it is worse than he thought it would be. If he is in romance with Hawke, he offers Hawke to come on the run with him as a fugitive after the final battle.
DLCs
Anders can venture with Hawke into the Grey Warden prison in Vimmark Mountains. Since Anders is a Warden, he starts hearing the voice of Corypheus through the taint. As the voice is getting louder, Anders struggles to shut him out. Finally, Justice takes him over, turns hostile to Hawke and summons two shades. Once Justice is defeated and the shades are killed, Anders apologizes and promises to try harder to hold against the voice and Justice.
Before Corypheus attacks Hawke, he claims that he is one of the ancient magisters who entered the Golden City. Anders expresses his belief that the Chantry made up this story to induce the fear of magic and that the darkspawn were created by the Old Gods. After the battle with Corypheus, Hawke checks his remains and finds an ancient Tevinter amulet belonging to a Dumat-worshiping cult. Anders is baffled: he admits that Corypheus was one of the ancient magisters and wonders if the Chantry knows more than he thought.
If Anders
accompanies
Hawke to
Chateau Haine
, Hawke finds
Arcane Feathers
similar to those on Anders' coat and learns that they belong to a "simir" bird and have magical properties.
Romance
Anders is a romance option for both genders. If Hawke is male, he will mention that Karl was his "first." If Hawke is female, he does not mention Karl romantically. Hawke can announce interest in Anders after his personal quest, much to his surprise. Anders will say he should "check a looking glass more often." If Hawke chooses the 'good' dialogue options over the romantic ones, Anders will flirt with Hawke, and then apologise and berate himself.
In the beginning of the romance Anders will insist that he would hurt Hawke, saying that they might have been able to be together before he merged with Justice. A romance can still be pursued, however, if Hawke continues to flirt in later dialogue.
In Act 2, choosing certain dialogue options during Anders' personal quest will result in a later conversation that initiates the first real romance scene with him, in Questioning Beliefs. If Hawke continues to flirt here, Anders will kiss him/her, then tell Hawke that he will come to the Hawke Estate at night. The next time Hawke enters the estate, Anders will be there and the romantic cutscene will be initiated. Anders will confess to being in love with Hawke and, if certain dialogue options are chosen, will move in with him/her at the beginning of Act 3. Note: During Questioning Beliefs, if Anders is a rival and Hawke asks what he is writing, then chooses the diplomatic option "It's a good argument," the conversation will not lead to the flirt options. It is unknown whether or not this effectively locks Hawke out of any further romance with Anders.
In Act 2 Anders can end the romance with Hawke in
Anders in the Fade
, which is available if a deal is made with Torpor the sloth demon during
Night Terrors
, and Hawke chooses not to kill the demon (instead killing Anders in the Fade). Accepting the demon's offer and not killing it will result in rivalry points with Anders, and he ends any possible romance. The romance can be continued normally, even if Anders is killed in the Fade, by killing the demon in the end and afterwards telling Anders it was all a ruse, using the special option in the dialogue wheel.
Note: PC v1.04, If completed the romance after Questioning Beliefs, attacking Anders will end romance even if Hawke killed sloth demon. The special option is available but romance is ended and no flirt options are available afterwards, such as, when giving the Tevinter Chantry Amulet gift. However, if Night Terrors quest is done before Questioning Beliefs, then romance can continue as normal if Hawke killed Anders and then rejected demon's deal by using the special option "It was a ruse."
A conversation with Isabela can happen in act 2 if Hawke is with Anders, This has no effect on either relationship.
A second companion quest inside the Check on Anders companion quest, called Key to Your Heart appears if Anders has moved in during Act 2. Hawke can give Anders a key to the underground passage that leads from the outside of his clinic to the Amell estate at the beginning of Act 3.
Note: If you sleep with Anders and immediadely afterwards end the relationship it seems to give no rivalry points, even if you mock his performance. (Needs further confirmation)
After finishing Anders' personal quest in Act 3, Justice (Quest), he will apologize in advance for breaking Hawke's heart, presumably because of what he is planning to do with the Chantry. He will, however, continue to stay at the Hawke estate and tell Hawke that he values their support if in a friendmance or if in a rivalmance talk about how the Circle may really be able to be changed from the inside, although this has no effect on the game ending. In the Gallows Prison, if Hawke chooses to side with the mages, Hawke can choose to run away with him after the battle, and the romance will be complete. If Hawke chooses to side with the templars, they will have what appears to be a final farewell kiss before the last battle and Anders is not mentioned in the epilogue.
During the DLC
Legacy
, Anders will act as if no longer in a romance if you have sided with the templars and are playing after Act 3. At the beginning of the DLC, Anders expresses worry that Hawke's pursuers can "get at" Hawke. During the course of events, he has some romance specific lines for Hawke, such as begging Hawke to help him overcome the voices and calling Hawke "love". In
Mark of the Assassin
, Anders can grow jealous if you flirt with
Tallis
, and worries over Hawke's safety when he/she is captured with Tallis. He also makes some note of knowing what's coming or perhaps what has happened by saying "I wish we could stay like this forever, love" when clicked on.
Friendship and rivalry

Friendship with Anders can generally be earned by siding with the mages, by confronting demons and blood mages and by being agreeable in conversations with him.
Rivalry with Anders can generally be earned by siding with the templars and blood mages, by striking deals with demons, or by being disagreeable (i.e. referring to Anders as an abomination).
Quests
Dragon Age: Origins - Awakening

Freedom for Anders
Dragon Age II
Act 1

Tranquility

Talk to Anders
Act 2

Visit Anders

Dissent

Questioning Beliefs

Anders in the Fade

Tevinter Chantry Amulet
(gift)
Act 3

Check on Anders

The Key to Your Heart

Justice

Questioning Beliefs
Mark of the Assassin

Arcane Feathers
Gifts
Dragon Age: Origins - Awakening
Anders takes great pride in his appearance and enjoys fine things.
Dragon Age II
Initial statistics
Dragon Age: Origins - Awakening
Class: Mage
Specialization: Spirit Healer
Skills: Herbalism, Runecrafting, Improved Combat Tactics, Clarity
Starting Talents:
Mage: Arcane Bolt, Arcane Shield
Spirit Healer: Group Heal, Revival, Lifeward
Primal: Winter's Grasp, Frost Weapons, Cone of Cold
Creation: Heal, Heroic Offense
Spirit: Walking Bomb, Mind Blast
Entropy: Weakness, Paralyze, Drain Life
Gear
Dragon Age: Origins - Awakening
Initial gear

Magister's Staff
Magister's Staff
---
Staff
Silverite (Tier 6)
Requires: 32 magic

Damage: 6.00 (Fire)
Armor penetration: 35.00
+1/+2 mana regeneration in combat
+5 spellpower
+10% spirit damage

Polar Gauntlets
Polar Gauntlets
---
Light gloves
Hardened (Tier 4)

Armor: 1.00
Fatigue: 1.08%
+10% cold damage

Magus War Boots
Magus War Boots
---
Light boots
Drakeskin (Tier 7)

Armor: 2.25
Fatigue: 0.57%
+12 defense

Magister's Cinch
Magister's Cinch
---
Belt


This was formed from several braided strips of dark material. One feels ice cold to the touch. Another, extremely hot. Yet another seems almost to have a pulse of its own.



Reduces hostility
+10% to healing effects received

Tevinter Mage Robes
Tevinter Mage Robes
---
Clothing
The robes of the Tevinter mages are often enchanted to increase the wearer's magical prowess. This robe is particularly elaborate, and must have belonged to a prominent mage at some point.

+1/+2 mana regeneration in combat
+4% spell resistance
+5 spellpower

Hailstone
Hailstone
---
Ring
The band of this ring is circled by a line of lyrium, and seems to perpetually hold a coating of frost.

+5% cold damage

Ring of Faith
Ring of Faith
---
Ring


The designs on this bit of ivory are almost primitive, depicting rays of light. It has a warm, luminous quality, as if always sitting in sunshine on a summer afternoon.



+10% fire damage
Anders specific gear

Fox's Pendant
Fox's Pendant
---
Amulet
After Anders first escaped from the Circle Tower, he saved the life of Bann Ferrenly. This enchanted amulet was a reward for Anders's service and friendship.

+3 willpower
+10% to healing effects received
Dragon Age II
Upgrades to Renegade's Coat (Anders' armor) can be found at the following locations:
If Hawke helps Anders during Justice (quest) in Act 3 and subsequently talks to him either as a part of this quest or during the follow-up quest Questioning Beliefs, Anders will wear a black version of his armor.
Anders specific gear
Freedom's Call
Freedom's Call
---
Staff
Red Steel

Damage: 9 spirit damage
(12 per second)
, Anders starts with this staff.

Ring of the Awakened
Ring of the Awakened
---
Amulet

+(0.8 + 0.08 * LVL) magic
+6 mana/stamina regeneration rate
+(10 + 0.25 * LVL)% fire damage
+(10 + 0.25 * LVL)% cold damage
Improves with level-up
, requires
Mage Item Pack 1
DLC
.

Seal of Dumat
Seal of Dumat
---
Amulet

+(0.4 + 0.04 * LVL) magic
+2 mana/stamina regeneration rate
+(12 + 0.4 * LVL)% healing by this character
, requires
Legacy
DLC.

Visionary's Girdle
Visionary's Girdle
---
Belt

+(0.9 + 0.9 * LVL) mana/stamina
+3 mana/stamina regeneration rate
+(6 + 0.15 * LVL)% electricity damage
+(6 + 0.15 * LVL)% spirit damage
+(11.25 + 0.375 * LVL) healing by this character
Improves with level up
, requires
Mage Item Pack 2
DLC.

Birds of a Feather
Birds of a Feather
---
Amulet

+(1.6 + 1.6 * LVL) health
+(0.8 + 0.8 * LVL) mana/stamina
+2 health regeneration rate
, requires
Mark of the Assassin
DLC.
Plot skills
As the player befriends Anders and gains his approval, he will gain additional skills in Dragon Age: Origins - Awakening:
| Skill Name | Benefit | Requirement |
| --- | --- | --- |
| Inspired: Minor Willpower | +1 to willpower | 25% approval |
| Inspired: Moderate Willpower | +2 to willpower | 50% approval |
| Inspired: Major Willpower | +4 to willpower | 75% approval |
| Inspired: Massive Willpower | +6 to willpower | 90% approval |
Note: These bonuses are non-cumulative, i. e. the companion will get a total bonus of +6, not of +13.
Dialogue points
Below are the spots where the player can initiate dialogue with Anders in Dragon Age: Origins - Awakening:
Quotes
Dragon Age: Origins - Awakening
"All I want is a pretty girl, a decent meal, and the right to shoot lightning at fools."
"Maker's breath, kitty. What have you been eating?"
"After my seventh escape attempt, you think they'd have given me credit for trying."
"Magic isn't for your amusement! Why don't I just do a little dance? Anders' Spicy Shimmy?"
(Upon seeing the Ballista in the Silverite Mines) "Conventionally placed isn't it? Oh well, I'm always up for a bit of iconoclasm!"
(Upon being removed from party) "Andraste's knicker-weasels!"
(Meeting for the first time) "Oh, I know, I know. Most people enjoy being kicked in the head to be woken up each morning. Me, I'm just so picky."
Dragon Age II
(To Hawke and party upon first meeting) "I have made this place a sanctum of healing and salvation! Why do you threaten it?"
"Since when is Justice happy? Justice is righteous. Justice is hard."
"Ten years, a hundred years from now, someone like me will love someone like you, and there will be no templars to tear them apart."
(To Bartrand, after he inquires about the Deep Roads maps) "A wizard did it."
(Entering the Blooming Rose brothel) "If someone here tries to hire me again, I'm leaving."
(Reviving after a fight) "Even my bruises have bruises."
(During The Last Straw) "I will not stand by and watch you treat all mages like criminals, while those who would lead us bow to their templar jailors!"
(During The Last Straw) "I removed the chance of compromise because there is no compromise. There can be no peace."
Trivia
David Gaider wrote Anders in Awakening, while Jennifer Hepler took over the role for Dragon Age II. However, David Gaider confirmed[5] that the role Anders plays in the sequel was set by himself prior to anyone writing him.
"Anders" is a common name in Scandinavia, equivalent to the English name Andrew, and derived from the Ancient Greek word andros, meaning "human" or "man." In modern Dutch and modern German, anders means "different," but this is likely purely by chance, since both words come from a completely different origin.
Though Anders uses a fire spell when you first meet him in Awakening, he does not have the spell when he joins the party.
If Anders specializes in Blood Magic, the player can have another additional line of dialogue with Anders when speaking about Anders' past with the templars. When Anders remarks there really isn't much of a reason to arrest him, the Warden can point out that Anders is an actual blood mage now, to which Anders laughs.[6]
In the library in the Circle of Magi during the Witch Hunt DLC one can find some old notes left in a book in which a young mage made sketches in the margins of templars being eaten by a tiger named "Ser Pounce-a-lot". (Since that mage is Anders, he subsequently names the kitten given to him in Awakening Ser Pounce-a-lot.)
The mage Finn reveals through dialogue that Anders once escaped the Circle of Magi by swimming across Lake Calenhad during a weekly training exercise for the apprentices. He was caught again one week later.[7]
The writers weren't sure Anders would be the Awakening character coming over to Dragon Age II and merging with Justice — for a while it was going to be Velanna. [8]
During the events of Dragon Age II, while in the Fade, when Justice takes complete control, the passive spell Vengeance is active whether or not you have assigned it to Anders.
In the Legacy DLC Anders declares his disbelief in the Chantry lore regarding the Golden City and the darkspawn. Seeing the Seal of Dumat makes him change his mind on the issue. This characterization of Anders contradicts what he says about the Golden City in his Act 2 quest Tevinter Chantry Amulet and in the Origins expansion Awakening.
If Hawke invited Anders to move in and proposed Orana to work for Hawke, you can click on the lute in Hawke's bedroom to learn that "Anders may have talents, but playing the lute isn't one of them".
Anders uses the line "There can be no peace" in Act 3 as does Flemeth in the beginning of the game.
Jennifer Hepler describes the choice of keeping Anders alive as "poetic justice", as he would have to face and suffer the knowledge of the lives he took. She also states her belief that he wishes death so that the people whom he killed receive justice as well.[9]
David Gaider stated that Anders being merged with Justice may have one of the two effects on his Calling: "One is that the spirit within Anders can affect the level of his corruption, so it may delay or remove the necessity for his Calling altogether. Either that or at some point the corruption within Anders is going to corrupt the spirit." He refused to tell which one the writers prefer due to the possibility of Anders appearing in future games.[4]
David Gaider confirmed that if Hawke killed Anders, he is ultimately dead. Justice, however, may be another story.[10]
Adam Howden (Anders voice actor in Dragon Age 2) hinted that he might be recording for Dragon Age: Inquisition.
Anders wrote his own manifesto at some point, likely detailing his opinions about the Mage-Templar Feud and what he thinks should be done about it. Hawke can find copies of it placed in various parts of his/her estate, as well as some companions' homes, probably set there by Anders in a hope that someone would actually read it.
Bugs
If Hawke sleeps with Isabela or Merrill, breaks up the relationship and then starts romancing Anders, the final scene and the achievement are still accessible. However, in the epilogue Varric mistakenly says "... all except Isabela/Merrill" (or both "Isabela/Merrill" and "Anders" simultaneously). [confirmation needed]
If Hawke is in romance with Anders but kills him in the end, or spares him but breaks up with him before the last battle, in the epilogue Varric mistakenly says that all the companions parted ways except for Anders unless the latest patch is installed. (Fixed in patch 1.04)
Gallery
Codex entries
Codex entry: Anders

Codex entry: Anders

Codex entry: Anders - After the Deep Roads

Codex entry: Anders - The Last Three Years
References
External links
Community content is available under
CC-BY-SA
unless otherwise noted.